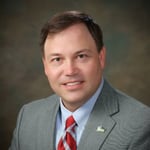 My goal each morning when I come to work for Bank Independent is to attempt to make a difference in someone's life either personally or professionally. Nothing is greater than watching someone whom you bank become successful. One of the parts of my job that I love is lending to small businesses. When a customer comes to me to speak to me about a small business loan, I like to learn everything I can about what they are doing, where they are heading and how they will get there. It's my job to help them get there.


When I talk to someone about borrowing money for a business I like to go over five things:
Your Business Plan. Your answers to these questions will help me understand first, how much planning you've done, and second, the potential for your business to continue to grow and thrive.
What's your Purpose?
How will be Structured? Incorporated, LLC, Sole Proprietorship?
What Products or Services do/will you offer?
Do you need a Market Analysis?
What do you know about your Competition?
Financial Statements. If you're starting a new business, some of these documents won't yet apply, but the information they provide will be crucial to our loan decision process.

Projections--A forecast of future revenues and expenses for a business, organization, or country (we have a calculator on our website that will help you project your cash flow).
Income Statement--A financial statement that shows an entity's financial results over a specific period of time.
Balance Sheet--A financial statement that summarizes a company's assets, liabilities and shareholders' equity at a specific point in time.
Personal Financial Statement--This provides an overview of the borrower's personal asset and liability situation from personal standpoint.
5 C's in Banking. An oldie but a goodie. We still look at each of these criteria to determine if we can make your business loan.

Collateral---Something pledged as security for repayment of a loan, to be forfeited in the event of a default
Capital--Wealth in the form of money or assets, taken as a sign of the financial strength of an organization
Capacity--Borrower's ability to repay a debt on a timely basis, determined by deducting total cash outflows from the borrowers total income during a month
Credit--The ability of a customer to obtain goods or services before payment, based on the trust that payment will be made in the future
Character--The mental and moral qualities distinctive to an individual
Collateral Types. As much as we'd love to go back to the days of a "handshake" deal, it's not always feasible. You'll want to have something that the bank can use as collateral on your loan. You might consider:

Accounts Receivable
Cash Savings or Deposits
Equipment
Inventory
Real Estate
Loan Types. Your banker can help you determine the best source of funding for your particular loan--even if it's not a bank.

Bank Loan--An amount of money loaned at interest by a bank to a borrower, usually on collateral security, for a certain period of time
SBA Loan--Loan where bank either participates with the SBA on a percentage basis or the SBA guarantees up to a certain percentage of the loan amount
Investors--Person who allocates capital with the expectation of a future financial return. The customer would look to investors when they may have had an issue borrowing money in the past and are not able to borrow money from a bank or the SBA at the time of need.
The Sales Officers at Bank Independent have the reputation of helping businesses succeed in North Alabama and a willingness to continue to see our area grow with new opportunities in the future. Our President, Macke Mauldin, likes to share a quote made famous by JFK: "A rising tide lifts all boats." It's what we believe here--if we can help your business grow and succeed, the whole community benefits.