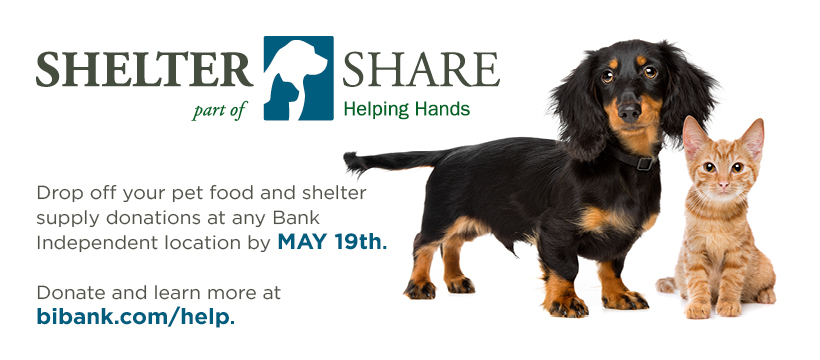 Sheffield, Ala. – Tuesday, April 25, 2023 – Bank Independent will kick off its 10th annual Shelter Share drive to benefit local animal shelters on May 1st. All locations of Bank Independent will serve as donation points for pet food and supplies designated for local animal shelters. The drive will end on May 19th with Adoption Day as Bank Independent will sponsor the adoption application fee for animals adopted from partner shelters.
The 2022 Shelter Share collected and distributed over 740 items and more than $11,175 in donations to shelters in northwest Alabama last year. Donations were used to supplement resources available to local shelters. Additionally, the Bank sponsored 81 pet adoptions across partner animal shelters.
"Bank Independent is proud to support Shelter Share as part of our Helping Hands Foundation," says Rick Wardlaw, CEO of Bank Independent. "We are proud to partner with the local shelters in our footprint so that our team members and customers have an opportunity to give back. These shelters rely heavily on community support to meet the needs of the animals in their care, and we are proud to be a small part of that backing."
Between May 1 - 19, every Bank Independent sales office will accept donations of pet food, kitty litter, paper towels, nursing bottles, cleaning supplies, first aid items, used blankets, bedding and towels.
The donated supplies will be delivered by Bank employees to the Athens Limestone County Animal Shelter, Colbert County Animal Shelter, HOPE in Franklin County, Decatur Animal Services, Huntsville Animal Services, Lawrence County Animal Shelter, Morgan County Animal Shelter and Florence Lauderdale Animal Shelter in early March.
About Bank Independent
Since 1947, Bank Independent has taken pride in serving the customers who count on us to be there for them when they need us most. With 30 traditional Sales Offices across North Alabama, an on-campus Deshler Tiger Branch, and the Digital Sales Office, we're committed to providing the best service, designing the most desired products, and creating an overall excellent experience for each and every customer. As a local community bank, we believe in building relationships that run deep and last. All our team members reside in our local communities and believe in giving back through volunteering. To become part of a bank that makes a positive difference in people's lives, visit us at bibank.com.