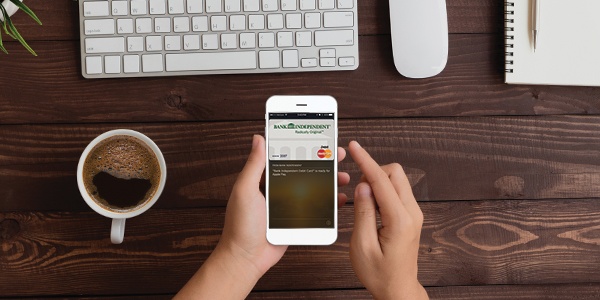 Ok, so new stuff can be scary...especially when it involves your hard-earned money. When it comes to new payment technologies, you're probably concerned about security, understanding the technology, security, setup, security, etc. I totally get it! As a forty-something who witnessed the advent of ATMs and has had hackers fraudulently use my debit card information (at an RV park in Florida, at that!), I totally understand.
But this doesn't mean we shouldn't embrace new technology like chip cards and Apple Pay and trust that banks and developers really do want to give us safer, simpler and speedier ways to pay. A lot of us Gen X'ers already get this. A recent study, in fact, found that 48 percent of Apple Pay users are from our generation, while only 42 percent are Millenials (aged 18 to 32). Trailblazers, we are.
So what's stopping YOU from joining the Apple Pay generation? Let's talk it through:
"It's not secure!"
Not true! Apple Pay is very secure, and here's why:
Apple Pay assigns, encrypts and securely stores a unique Device Account Number on your mobile device and uses that number to process your payment.

Apple Pay purchases cannot be activated unless authorized by Touch ID.

Apple does not store or share your transaction details or records--even with the merchant.

Your full card number is not displayed on your phone.

If your mobile device is lost or stolen, purchases cannot be authorized without your Touch ID authorization.

As your actual debit card is not needed for purchases, there are fewer opportunities for lost or stolen debit cards.
"It's just easier to pay with cash, debit or credit cards."
The really easy part of Apple Pay is that only ONE motion is required to make it work. Let's compare:
1. Debit or credit card: Swipe or dip your card at the terminal/choose credit or debit/accept the charge amount/enter PIN or sign/answer questions.
2. Cash: Visit an ATM (because who remembers to carry cash?)/find the right denomination/accept your change/do something with your change
3. Apple Pay: Hold phone up to terminal/hold your thumb over your phone's Touch ID button
OK, so it's five steps versus four steps versus two. And if you're one of those folks with a phone permanently attached to your hand, you can really cut down the steps in the Apple Pay process to one.
"I don't understand it."
Here's what Apple shares on their Apple Pay page: "With Apple Pay, instead of using your actual credit and debit card numbers when you add your card, a unique Device Account Number is assigned, encrypted, and securely stored in the Secure Element, a dedicated chip in iPhone, iPad, and Apple Watch. When you make a purchase, the Device Account Number, along with a transaction-specific dynamic security code, is used to process your payment." It's not extremely important that we as users understand all of the nuts and bolts about Apple Pay; however, it's good to know these basics of the process.
"It's too hard to set up."
Apple has made it easy to get started with Apple Pay. You don't even need a special app! Simply:
Download the latest iOS update to your device

Open your Apple Wallet

Take a photo of your Bank Independent Debit Card using your device's camera
To complete your enrollment process, you may have to contact your bank's customer service team.
Apple Pay is a very cool new way to make payments. Not convinced? I understand. Honestly, I do. Old habits are hard to break, and sometimes you simply forget that Apple Pay is an option. But as payment methods continue to evolve and develop, you'll see more and more merchants accepting Apple Pay and other mobile wallet-type payments.
We have some pretty smart folks here on Bank Independent's Apple Pay team. Give them a call if you have any questions or want to get set up! Bank Independent's Apple Pay Customer Service team is available at (256) 386-5000 or (877) 865-5050 Monday through Saturday from 8:00 a.m. to 8:00 p.m.