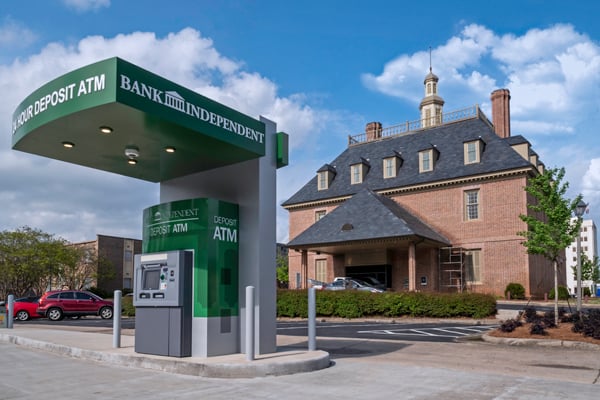 Almost everyone has experienced it: getting a check, putting it in a safe place, then forgetting to grab it before the bank closes. Fortunately, you can deposit a check (and even cash) at select deposit-taking ATMs any time of the day or night. Check out which Bank Independent locations have Sync Deposit ATMs.
Do I have to have a debit card to use the deposit-taking functionality of the ATM?
Yes, you must have an active debit card to use the ATM.
Can I still make withdrawals from the ATM as I always have?
Yes, you may use the withdrawal function of the ATM, as usual.
How many checks or cash can I deposit at one time at the ATM?
Depending on the quality and thickness of the checks or cash, you may deposit 30 or 40 items into the machine at one time.
Will there be a delay in the availability of cash?
No, there will not be a delay in the availability of the cash deposited into an account.
Can I deposit cash and checks, cash only, or checks only when making a deposit?
Yes, you may deposit cash, checks, or a combination of cash and checks into the ATM. Checks and cash can be deposited within the same transaction. However, when completing the deposit, you will enter the cash and checks separately within the transaction.
Can you make a split deposit with a check at the ATM?
No. The entire amount of the check must be deposited. A withdrawal from the account can be completed if the customer needs cash back; however, these must be two separate transactions.
How soon can a customer use the deposit-taking ATM after account opening?
The customer will need to wait for the overnight update in order for a deposit to post to their account accurately.