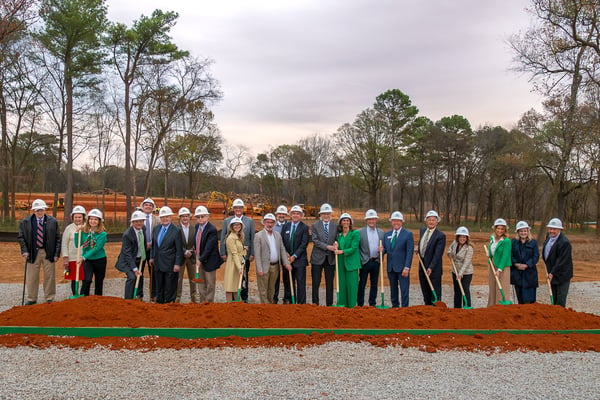 Sheffield, Ala. Thursday, November 16, 2023 – Bank Independent held a ceremony on Wednesday, November 15th celebrating the groundbreaking of a new operations center in Muscle Shoals. The state-of-the-art facility represents a major investment in the bank's infrastructure and long-term growth strategy. With advanced technology and expanded capacity, the operations center will allow Bank Independent to better serve its growing customer base across North Alabama.
"Bank Independent has served North Alabama for 76 years, growing a single location in Leighton, Alabama to now occupying five separate operations buildings today in the Shoals," Bank Independent CEO Rick Wardlaw said. "This building will allow us to consolidate our administrative teams into one centrally located, custom-designed 100,000-square-foot facility. This state-of-the-art workspace will allow us to collaborate and innovate as we continue serving the Shoals community into the future. This groundbreaking ceremony is a clear statement to the State of Alabama that Bank Independent has been built to serve, not to sell." Wardlaw reminded team members in attendance that this was made possible by all the team members who have come before. "I like to say, 'those who drink the water should remember those who dug the well.'"
Site preparation is already underway for the four-story, 100,000 sq ft complex. It is located on a 50-acre parcel of land formerly owned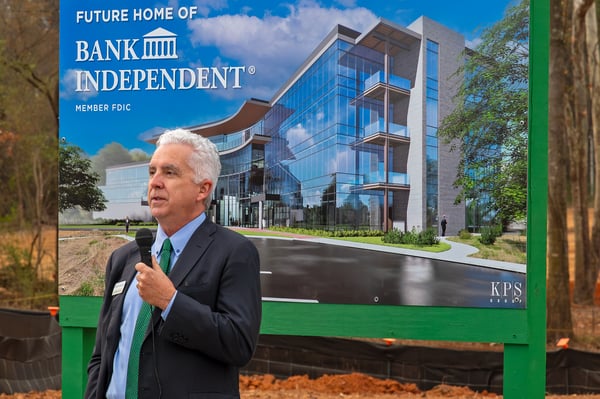 by the Tennessee Valley Authority off Reservation Road.
"This land holds an important place in Shoals history," Bank Independent President Macke Mauldin said. "When Henry Ford and Thomas Edison visited in 1923 as Wilson Dam neared completion, they envisioned a city that would span 75 miles east from this very spot. Their visionary plans aimed to spur economic growth for the entire valley. It would be a world-class city that would provide economic development for the valley. It would be a wonderful place to live and work and play, now 100 years later we're realizing that with the building of our new home. Many legendary figures have passed through this area over the decades, and we are thrilled to become part of that storied legacy."
Team member parking will be nestled into the forest side of the building, providing shade from existing trees. A covered walkway will connect the parking area to a welcoming two-story lobby. In addition to office space, the headquarters will feature a 12,000-square-foot warehouse for support operations, a fitness center, and a café with outdoor dining.
"This facility is about our team members," said Penny Camp, Chief People Officer for Bank Independent. "It's about bringing our team members together. In designing the space, we asked team members what they wanted most, and their top request was to be together under one roof. Our culture thrives on collaboration, so being together as a team will make that much more efficient and easier. The many amenities cater directly to team members, which we prioritized during the design process. By creating a space tailored specifically for our people, we hope to foster even stronger connections and teamwork."
The building has been designed to blend into the natural wooded surroundings, with care taken to preserve existing trees and forest. It will be situated on a high point of the property with views of the forest and a large meadow.
The ceremony was attended by Muscle Shoals Mayor Mike Lockhart, city council members, Rep. Kerry Underwood of State House District 3, Shoals Chamber of Commerce President Caitlin Burns, and other civic and business leaders who welcomed the project and praised Bank Independent's community involvement.
"Bank Independent is more like family when they partner with the community," Underwood said. "They go above and beyond - doing things not because they have to, but because they want to. That is what makes this place and Bank Independent incredible, they are such an important part of what we do here."
"I know that people have seen the rendering and they've said this is going to change Muscle Shoals,' said Lockhart "This is not going to change it, the legacy of Bank Independent already has done that. What they've already done for our city and our community is the Bank Independent legacy and this building is just a result of that. Local people investing locally is what Bank Independent does and it speaks volumes for who they are and what they represent."
"It is clear that there is "no place like home" for Bank Independent," Caitlin Burns, President of the Shoals Chamber of Commerce said. "Their generosity and continued investment in the Shoals is a blessing to all who share this home with them. Their continued commitment to the Shoals is on full display with the groundbreaking on a new, state-of-the-art operations center and the Shoals Chamber looks forward to celebrating its completion and Bank Independent's continued success."
Serving as the general contractor is Robins & Morton. Grayson Carter and Sons will handle the sitework. LED Architecture acting as the Architect of Record with support from KPS Architects. Mechanical Design Services is on board as the mechanical engineer, while electrical engineering will be provided by Jackson Renfro & Associates. Structural engineering services will come from LBYD Engineers, and White, Lynn, Collins & Associates will serve as the civil engineer. Landscape architecture will be handled by Renta Urban Land Design, and ASD Sky is providing interior design.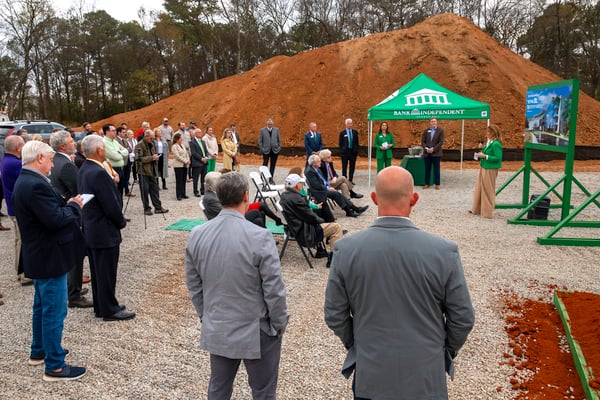 This new state-of-the-art operations center represents the bank's continued growth and investment in North Alabama. With the project now underway, it is expected to be completed by late 2025 and will enable Bank Independent to better serve its communities and customers.
About Bank Independent
Since 1947, Bank Independent has taken pride in serving the customers who count on us to be there for them when they need us most. With 32 traditional Sales Offices across North Alabama, an on-campus Deshler Tiger Branch, and the Digital Sales Office, we're committed to providing the best service, designing the most desired products, and creating an overall excellent experience for each and every customer. As a local community bank, we believe in building relationships that run deep and last. All our team members reside in our local communities and believe in giving back through volunteering. To become part of a bank that makes a positive difference in people's lives, visit us at bibank.com.