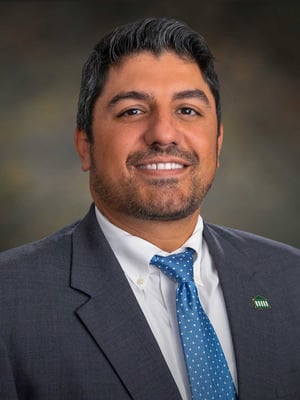 Sheffield, Ala. – Wednesday, November 30, 2022 – Bank Independent is pleased to announce the hiring of Nick Rockhill as a VP Sales Officer in Madison County.
Rockhill has over 10 years of experience in the banking industry. He has served on the Retail Banking side for about five years where he served various roles from Customer Sales/Relationship Banking to Management of a Retail Sales Office. After serving the retail side he began serving as a Commercial Lender for the last five years. During this time, he specialized in C&I Lending (Government Contractors, Manufacturing Entities, Equipment Financing, etc.), Commercial Real Estate transactions, Construction Lending, Healthcare, Business Acquisitions, and SBA Lending.
"My goal has always been to build long lasting relationships and trust with my clients to identify financial solutions and growth opportunities for various business customers," Rockhill said. "I hope to impact both my clients and peers in a positive way. I find great value and satisfaction in helping a business owner achieve his/her goals."
Rockhill is a member of the Huntsville Hospital Foundation – Board of Trustee; The Land Trust of North Alabama Board of Directors: Leadership of Greater Huntsville – Management Academy Class 13; Madison Baseball Association Board of Directors and the Connection Team at The Brook Church.
"We are very excited to have someone with Nick's experience and talent join our Bank Independent family," Bank Independent Huntsville City President, DeMarco McClain said. "I've known Nick for years and have always admired his approach to customer relationships and community partnerships. Nick is the type of leader who understands the importance of serving others and is willing to invest the time and effort necessary to fulfill the needs of his customers. I look forward to years of growing and learning together."
He and his wife, Sheena, live in Madison with their two sons, Cooper (10) and DJ (7) and daughter Mary Beth (4).
About Bank Independent
Since 1947, Bank Independent has taken pride in serving the customers who count on us to be there for them when they need us most. With 30 traditional Sales Offices across North Alabama, an on-campus Deshler Tiger Branch, and the Digital Sales Office, we're committed to providing the best service, designing the most desired products, and creating an overall excellent experience for each and every customer. As a local community bank, we believe in building relationships that run deep and last. All our team members reside in our local communities and believe in giving back through volunteering. To become part of a bank that makes a positive difference in people's lives, visit us at bibank.com.