Sheffield, Ala. – Friday, December 2, 2022 – Bank Independent was recently named as one of the Best Companies to Work for in Alabama. This annual program is in its thirteenth year - created by Business Alabama magazine and Best Companies Group.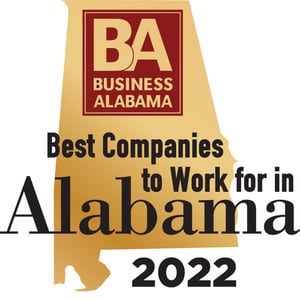 This is the third consecutive year that Bank Independent has made the list. This recognition joins the previous honors already received this year. Bank Independent was ranked #36 in the Top 100 Most Loved Workplaces by Newsweek Magazine, American Banker Best Banks to Work For (fourth consecutive year) and Forbes Best-In-State Banks (third consecutive year.)
"We are excited to once again be on the list for Best Companies to Work For in Alabama," Bank Independent CEO, Rick Wardlaw said. "All the honors received this year are proof that we are doing right by our team members. Their satisfaction with their work is integral to us being the bank and employer of choice in our communities."
This survey and awards program was designed to identify, recognize, and honor the best employers in Alabama, benefiting the economy, workforce, and businesses.
To be considered for participation, companies had to fulfill the following eligibility requirements:
Be a for-profit or not-for-profit business or government entity;

Be a publicly or privately held business;

Have a facility in Alabama;

Have at least 15 employees in Alabama;

Be in business a minimum of 1 year.
Companies from across the state entered the two-part survey process to determine the Best Companies to Work for in Alabama. The first part consisted of evaluating each nominated company's workplace policies, practices, philosophy, systems, and demographics. This part of the process was worth approximately 25% of the total evaluation. The second part consisted of an employee survey to measure the employee experience. This part of the process was worth approximately 75% of the total evaluation. The combined scores determined the top companies and the final rankings. Best Companies Group managed the overall registration and survey process in Alabama, analyzed the data, and determined the final rankings.
The rankings will be revealed in the publication of the December 2022 issue of Business Alabama. An awards event is planned for December 1, 2022 at the B&A Warehouse in the Parkside District of Birmingham.
For more information on the Best Companies to Work for in Alabama program, visit www.BestCompaniesAL.com.
About Bank Independent
Since 1947, Bank Independent has taken pride in serving the customers who count on us to be there for them when they need us most. With 30 traditional Sales Offices across North Alabama, an on-campus Deshler Tiger Branch, and the Digital Sales Office, we're committed to providing the best service, designing the most desired products, and creating an overall excellent experience for each and every customer. As a local community bank, we believe in building relationships that run deep and last. All our team members reside in our local communities and believe in giving back through volunteering. To become part of a bank that makes a positive difference in people's lives, visit us at bibank.com.