Sheffield, AL – Thursday, August 31, 2022 – Bank Independent, headquartered in Sheffield, Ala, is proud to announce the promotion of Blake Burns to Loan Review Officer.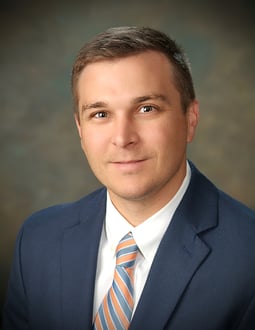 "This is a very deserving promotion for Blake," Bank Independent Executive Vice President of Credit Administration Preuit Mauldin said. "He does a fantastic job in his role and we are looking forward to watching him continue to grow with the bank."
Burns joined the Bank in 2013 as a member of the Customer Service Department. In 2014, he joined Credit Administration as a Credit Analyst and then served as the Team Lead. He transitioned to Asset Quality in January of 2021 to serve as a Senior Loan Portfolio Analyst.
He earned a finance degree from the University of North Alabama in 2012 and graduated from the Alabama Banking School in 2021.
About Bank Independent
Since 1947, Bank Independent has taken pride in serving the customers who count on us to be there for them when they need us most. With 30 traditional Sales Offices across North Alabama, an on-campus Deshler Tiger Branch, and the Digital Sales Office, we're committed to providing the best service, designing the most desired products, and creating an overall excellent experience for each and every customer. As a local community bank, we believe in building relationships that run deep and last. All our team members reside in our local communities and believe in giving back through volunteering. To become part of a bank that makes a positive difference in people's lives, visit us at bibank.com.