Sheffield, AL – Thursday, August 25, 2022 – Bank Independent, headquartered in Sheffield, Ala, is proud to announce the promotion of Aaron Cornelius to Sales Officer in the Rogersville Sales Office.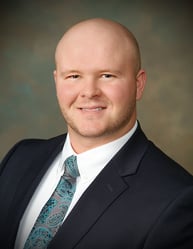 "We are very proud of Aaron and the qualities he exhibits in fulfilling our goal, mission and values," Bank Independent CEO Rick Wardlaw said. "He truly cares about the Rogersville community and the people that make their home there. We are excited to see him continue to grow and make a positive difference in his community."
Cornelius joined the bank in July of 2016 as a part-time teller. Over the course of his career, he has served as a Loan Processor, Loan Specialist, a Relationship Banker, a Senior Relationship Banker and most recently as a Sales Specialist. Aaron is a graduate of Lauderdale County High School, the Band Independent University Servant Leadership program and is currently enrolled in the Southeastern School of Commercial Lending, Class of 2023 and the Emerge Leadership Shoals Class of 2023.
About Bank Independent
Since 1947, Bank Independent has taken pride in serving the customers who count on us to be there for them when they need us most. With 30 traditional Sales Offices across North Alabama, an on-campus Deshler Tiger Branch, and the Digital Sales Office, we're committed to providing the best service, designing the most desired products, and creating an overall excellent experience for each and every customer. As a local community bank, we believe in building relationships that run deep and last. All our team members reside in our local communities and believe in giving back through volunteering. To become part of a bank that makes a positive difference in people's lives, visit us at bibank.com.
###