Sheffield, Ala. – Friday, October 14, 2022 – Bank Independent, headquartered in Sheffield, Ala, is proud to announce the promotions of team members Harris Parker and Dustin Rhodes.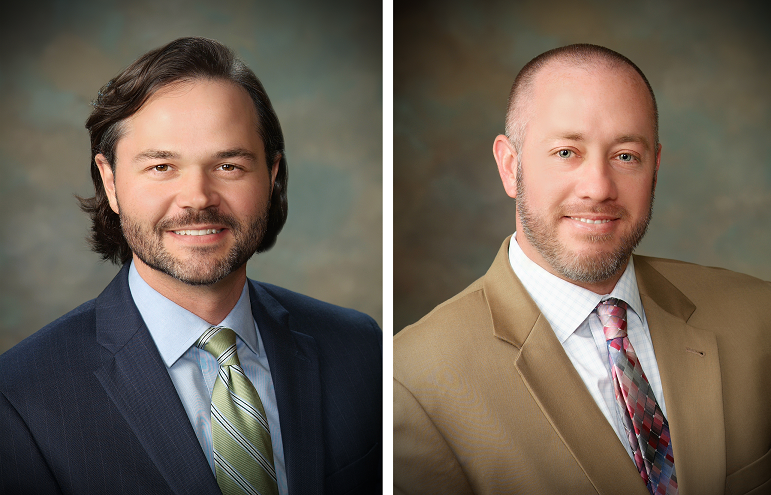 Harris Parker has been promoted to Assistant Vice President - Sales Officer at the Athens East Sales Office. He joined the Bank in 2014 as a Credit Analyst and has served in the roles of Loan Portfolio Analyst, Loan Portfolio Manager, and Sales Officer. Harris graduated from the University of Alabama in 2010 with a B.S. in Commerce and Business Administration – Finance and Investment Management. He graduated in 2019 from the Alabama Banking School at the University of South Alabama. Harris is a member of the Athens Rotary Club and volunteers with The American Chestnut Foundation, a non-profit scientific research organization focused on forestry preservation.
"Since moving into a commercial lending role less than 18 months ago, Harris has had a remarkable amount of success in a short period of time," Bank Independent Athens City President, Bob Thompson, said. "He has contributed a sizeable amount of growth to our loan portfolio, not only here in Limestone County, but also to the Bank as a whole. We are all very proud of Harris and his accomplishments and look forward to seeing him further contribute to the Bank's success in the years to come."
Dustin Rhodes has been promoted to Senior Vice President – Sales Officer at the Muscle Shoals sales office. Dustin first joined the Bank in May 2007 as a Collections Adjuster. He moved into the role of Loan Review Analyst and then Sales Officer before moving out of state in 2015. He returned to the Bank in May of 2017 as a Sales Officer where he has continued to progress his career. A native of Muscle Shoals, Dustin graduated from UNA with a degree in Economics and is currently enrolled in the class of '23 at LSU Banking School. Dustin serves on the NACOLG Revolving Loan Committee and is a board member of the Lion's Athletic Club at UNA.
"Dustin has been with Bank Independent for many years and worked his way up through the organization," Bank Independent Shoals Area President, Bill Howard said. "He has become one of our top commercial lenders and has truly earned this promotion. He truly cares about the community and does a great job of representing the mission and values of Bank Independent."
About Bank Independent
Since 1947, Bank Independent has taken pride in serving the customers who count on us to be there for them when they need us most. With 30 traditional Sales Offices across North Alabama, an on-campus Deshler Tiger Branch, and the Digital Sales Office, we're committed to providing the best service, designing the most desired products, and creating an overall excellent experience for each and every customer. As a local community bank, we believe in building relationships that run deep and last. All our team members reside in our local communities and believe in giving back through volunteering. To become part of a bank that makes a positive difference in people's lives, visit us at bibank.com.