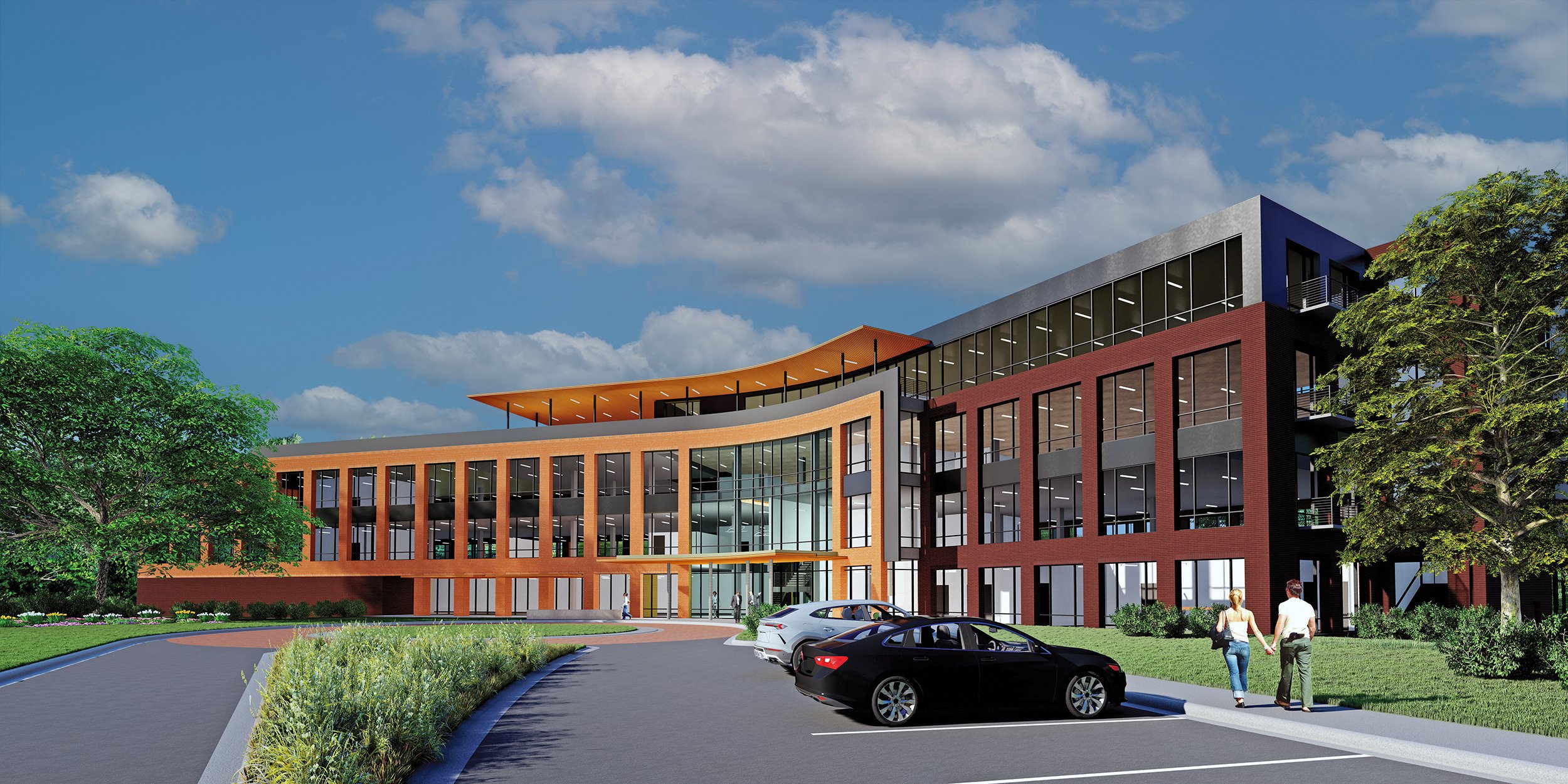 Sheffield, AL – Thursday, August 4, 2022 – Bank Independent announced today that the company is building a state-of-the-art Operations Center that will sit on 50 acres of former TVA property off Reservation Road in Muscle Shoals.
"Today's announcement continues our 75-year commitment to making a positive difference every day for our team members, our customers and our communities," Bank Independent President Macke Mauldin said. "It's especially noteworthy that we are building on the ground of the original TVA where Presidents Roosevelt and Kennedy came to recognize our community's monumental contribution to electrifying the entire Tennessee Valley."
The construction will come with a $60 million plus investment and will break ground in the Spring of 2023.
The 95,000 sq. ft complex is scheduled to be completed in the Spring of 2025. The complex will allow Bank Independent to move all operations staff under one roof. The teams are currently spread out over five buildings in the Shoals.

"Our new facility will provide high quality custom designed office space to serve the needs of our team members, customers, and communities," Bank Independent CEO Rick Wardlaw said. "It will include training rooms, a medical response area, a wellness room, a fitness center, and a conferencing center served by catering, team member café and private dining and kitchen. The new facility will also include a Bank Independent Museum that will honor the legacy of the thousands of team members who have served the bank over the past 75 years with over 25 million hours of service. We look forward to this facility enhancing our reputation as the employer of choice for the next 75 years."

The building will be four floors in height and will sit on a high point of the site in the edge of a forest with views to the east into a large meadow and to the west into the forest. Team members will park on the forest side, with existing trees for shade and connected to a welcoming two-story lobby by a covered walkway. The gracious lobby will extend through the building and will be served by elevators and other building services such as stairs and rest rooms.

The building structure will include a combination of steel and concrete and the building outside will be brick, glass, and metal panels with aluminum frames. The HVAC system will employ chillers and an underfloor air distribution system that delivers air directly into the comfort zone. The interiors will use LED lighting systems suspended from a structure above with minimal suspended ceilings, which results in tall interior spaces. Corporate office space will be subdivided using open office systems furniture and demountable glass walls; all providing maximum flexibility for future changes.

Convenient entrances from two sides of the building provide direct access for team members and visitors, alike. Many services and accommodations are being provided to serve team members including systems to insure comfortable working conditions and floors sized for functional work groups co-located for effective collaboration. Floor plates are configured to allow natural light to penetrate deep into the workplace which also facilitates beautiful views from offices to meadow and forest.

"While this facility demonstrates our commitment to our team and our community, it is also an investment," says Mauldin. "It's an investment in the creative and collaborative future of work. We built a similar facility on a smaller scale for our subsidiary company, Interstate Billing Service, in Decatur back in 2016. That investment has more than paid off in the efficiencies we have gained from a quality work environment that facilitates collaboration and promotes the wellbeing of our team."

Calvin Durham with Lambert Ezell Durham Architecture, LLC of Florence is the lead architect in association with KPS Group, Inc. LED Architecture is the oldest and largest architecture/interior design firm in the Shoals. They have been providing quality architectural and interior design services for projects, both big and small, in the Shoals, in the surrounding areas of Huntsville, Decatur, Athens, Moulton, Russellville, Haleyville, Double Springs, in Georgia and Tennessee as well as in other locations. Their experience includes projects from school and municipal buildings to banks, office buildings and churches. They have been honored with several architectural awards including American Institute of Architects Honor and Merit Design Awards, Alabama Association of General Contractors Architect of the Year Award, Associated Builders and Contractors Inc, Award of Excellence, as well as the Alabama Architectural Foundation's Building Recognition Award.

KPS Group was established in 1965 and provides architecture, interior design, planning and related consulting services across the southeast region from their Birmingham, Alabama headquarters and office in Huntsville. Their clients include businesses and corporations, developers, institutions, governments, community organizations, non-profits, and general contractors. They have been recognized by peers with more than 100 design awards and are most proud of the numerous accolades and awards received from user, client, and community organizations that recognize KPS projects for significantly exceeding expectations and adding tangible value to their function.

Robins & Morton will serve as General Contractor for the project. Robins & Morton is a privately held construction firm based in Birmingham, Alabama, with offices in Huntsville, Charlotte, Dallas, Miami, Nashville, Orlando, Raleigh, San Antonio and Tampa. Since 1946, the firm has built a reputation as a trusted advisor to clients nationwide by cultivating a high-performing team that values integrity, safety, and innovative thinking. Robins & Morton is consistently ranked as one of the top 100 contractors in the United States, and one of the top 15 in the Southeast.
About Bank Independent
---
Since 1947, Bank Independent has taken pride in serving the customers who count on us to be there for them when they need us most. With 29 traditional Sales Offices across North Alabama, an on-campus Deshler Tiger Branch, and the Digital Sales Office, we're committed to providing the best service, designing the most desired products and creating an overall excellent experience for each and every customer. As a local community bank, we believe in building relationships that run deep and last. All of our employees reside in our local communities and believe in giving back through volunteering. To become part of a bank that makes a positive difference in people's lives, visit us at bibank.com.