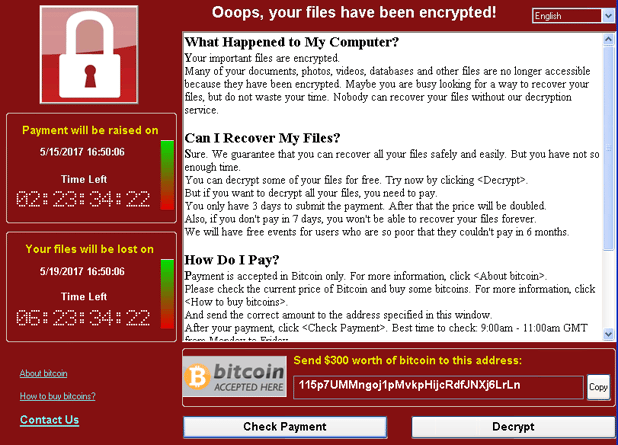 As you may have heard in the news this weekend, computer systems across the world were affected on Friday, May 12, by an unprecedented and extremely malicious ransomware/malware attack.
The virus infected and effectively shut down the computer networks of major corporations and entities, including FedEx and Britain's National Health Service. No effects on the US financial services sector were reported, and Bank Independent's systems were not affected.
What is WannaCry?
The malware, called "WannaCry," affected computers running Microsoft operating systems prior to Windows 10 that had not been updated with Microsoft's March 2017 MS17-010 release. The WannaCry virus was built to quickly spread through computer networks encrypting files and holding them for ransom.
Users who were clicked a link or opened an attachment in an otherwise normal-looking email were greeted with the black screen below, which prompted the user to run an .exe file to restore their files. This file executed the malware, essentially releasing the virus within their system and network. The next screen (in the photo above) told the user that their files basically had been "taken hostage" and couldn't be accessed unless the user paid the $300 "ransom."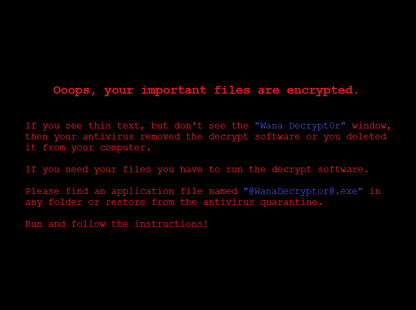 For more information on ransomware and what to do if your files are being held hostage, click here to read our recent blog post.
Protecting Your Data
Bank Independent is fully committed to protecting your personal and financial information at all times, and we can assure you that our systems were fully protected from this attack.
However, our commitment also includes helping you, our valued customers, stay aware of and prepared for potential cyberthreats to your home or business computers.
We've learned from our Cybersecurity and Information Security Teams that as an ongoing best practice:
Never click suspicious links

Never open suspicious attachments (especially ".exe" or "executable" files)

Don't open emails from unknown senders
Updating Your Systems
If you run a Microsoft operating system prior to Windows 10 on your machine, we urge you to visit Microsoft's website for instructions on updating your operating system so your information is protected from the WannaCry virus.
If you don't know what operating system you're running, you can quickly check this by following these instructions from Microsoft:
1. Click the Start button
2. Type the word "Computer" in the search box, right-click the Computer option and then click Properties.
3. Look under Windows edition for the version and edition of Windows that your PC is running.
Protecting yourself from ransomware is just one aspect of being cybersecure. For more information on cybersecurity best practices and other ways to ensure the privacy of your personal and confidential information, visit Bank Independent's Identity Protection page.