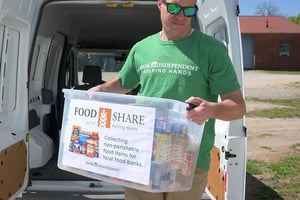 Sheffield, Ala. –Tuesday, April 3, 2023 – Bank Independent distributed $11,342 in cash donations along with 2,913 items of non-perishable food in support of the ninth annual Food Share drive "Feed a Family for $5 with Food Share" campaign. These donations created a financial impact of $20,081 for local food banks across North Alabama and area families in need.
"With the rising cost of daily necessities, more families are needing assistance in our communities than ever," said Macke Mauldin, President and CEO of BancIndependent. "The charities that distribute the collections work hard in our communities to support those families in need. Together with your help, we are all able to make a positive difference in the lives of those in our communities."
Donations have been distributed to local organizations that maintain food banks to fill emergency food needs, to include: Committee on Church Cooperation, Franklin County DHR, Food Bank of North Alabama, Limestone County DHR, Neighborhood Christian Center, Sidney's Safe! Foundation, Manna House in Huntsville, The Meal Barrel Project, Help Center.
"We have been in communication with many of our partners who support and address the needs of our community that they are getting more requests than ever for everyday necessities," said Hallie Mauldin, Community Engagement Leader at Bank Independent. "The organizations we support throughout the year, through our Helping Hands Foundation, provide vital assistance to families across our footprint while Food Share helps address food insecurity in our area. Thank you to the community for once again responding to the needs of those in our communities to help make a positive difference. It's because of your generosity that we are able to give back in this way."
The Food Share drive is part of Bank Independent's Helping Hands Foundation, which also includes team member volunteer efforts, donations and sponsorships. Other Share drives include Shelter Share to benefit animal shelters, Toy Share to collect toys for the holidays, and School Share drive for school supplies.
About Bank Independent
Since 1947, Bank Independent has taken pride in serving the customers who count on us to be there for them when they need us most. With 30 traditional Sales Offices across North Alabama, an on-campus Deshler Tiger Branch, and the Digital Sales Office, we're committed to providing the best service, designing the most desired products, and creating an overall excellent experience for each and every customer. As a local community bank, we believe in building relationships that run deep and last. All our team members reside in our local communities and believe in giving back through volunteering. To become part of a bank that makes a positive difference in people's lives, visit us at bibank.com.