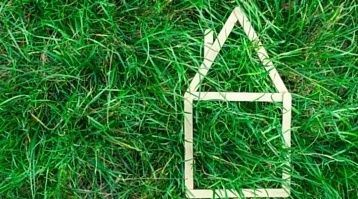 Spring is in the air (well, today anyway) and your cabin fever is at an all-time high. Maybe you're beginning to think about home improvement projects, or simplifying and downsizing, or maybe you're out of room and ready to move into a bigger space. If making these dreams a reality means a loan is in your future, there are a few simple steps you can take to make sure your credit is in good shape before you apply.
The American Bankers Association offers some great advice to build a healthy credit history before you decide to build that new home:
Request a copy of your credit report - and make sure it is correct. Your credit report illustrates your credit performance, and it needs to be accurate so that you can apply for other loans--such as a mortgage. Everyone is entitled to receive a free copy of his or her credit report annually from each of the three credit reporting agencies, but you must go through the Federal Trade Commission's website at www.annualcreditreport.com or call (877) 322-8228. This resource will provide a credit report at no cost, and a credit score is available for a fee.
Set up automatic bill pay. Payment history makes up 32 percent of your VantageScore credit score and 35 percent of your FICO credit score. The more you pay your bills on time, the better your score. Avoid missed payments by setting as many of your bills to automatically pay as possible (and making sure there are funds available to cover the withdrawal). A bill pay service connected to your bank's Online and Mobile Banking accounts is a great solution. Bank Independent's Bill Pay

,

for example, gives customers the flexibility to schedule recurring payments directly from their Bank Independent accounts. You also have the option to use your debit card or checking account information to set up automatic withdrawals from many merchants' websites.
Keep balances low on credit cards and "revolving credit." - Racking up big balances can hurt your scores, regardless of whether you pay your bills in full every month. You often can increase your scores by limiting your charges to 30 percent or less of a card's limit.
Apply for an open new credit accounts only as needed. Keep this in mind the next time a retailer offers you 10 percent off if you open an account. However, if you need a new line of credit, don't jump at the first appealing offer; compare rates and fees offered online or at your local bank.
Don't close old, paid off accounts. According to FICO, closing accounts can never help your score and can in fact damage it. The length of open accounts has an effect on your credit score.
Talk to credit counselors if you're in trouble. Using legitimate, non-profit credit counseling can help you manage your debt and won't hurt your credit score. For more information on debt management, contact the National Foundation for Consumer Credit.
If you're considering a mortgage loan to refinance, build or buy, here's another important credit tip:
Consider prequalification. At Bank Independent, you can talk with a mortgage originator or complete an online application to begin prequalifying for a loan. Part of the process will involve a credit check, and your originator will talk to you about specific issues that may be affecting your credit score. Feel free to shop around, too. Although the number of credit inquiries on your credit report can negatively impact your score, there is an exception for mortgage inquiries: All credit inquiries for mortgage purposes within 30 days are only counted as one inquiry, so don't worry about consulting multiple mortgage companies. Still looking for a lender? Check out this blog post for advice on finding the right one.
When you're ready to apply or prequalify for a mortgage loan, Bank Independent's Mortgage team is ready to help you make your home loan dreams come true!