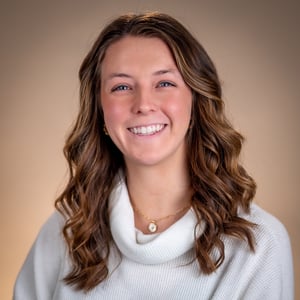 As a student at UNA, I have heard about Bank Independent for the last few years -- from friends who worked for the company, to seeing their logo around campus and the community. One of my mentors who led a book study even told me to apply to the bank one night, so I entered my information into the Talent Pool.
Finally, the Dean of the Honors College at UNA, Vince Brewton, encouraged me to apply for the internship program every chance he got. I ended up getting connected with the Bank and quickly began my testing and interview process.
One thing that sparked my personal interest in Bank Independent, is that I have never heard anyone have a negative report about their experience with the Bank. Whether that is someone who previously worked here, is a customer, or has a friend on the team. The ability to maintain satisfaction among such a large population is something that I want to learn more about, especially with my concentration in HR. I have also been interested in the work that Team Member Care does, and I believe being able to fund the separation of HR and TMC is a big factor that plays into the positive morale of the company.
In this program, I am also looking to gain more skills in understanding how the HR laws effect real life and real people's situations, along with gaining a better understanding of the numbers when it comes to payroll, insurance, and budgeting. Finally, I want to continue learning about the impacts of encouraging a growth mindset for its team members, acknowledging their hard work, and serving the surrounding community.
I had the privilege of joining the team just in time to attend Road Show, where I got to see behind-the-scenes why the community, customers, and team members love Bank Independent. Commitment to the people is a focus of the company, and it is clear. Also going back to the idea of maintaining a growth mindset, there is an opportunity to keep learning everywhere you look, whether that is reading a suggested book, attending Bank Independent University classes, or being a part of Lunch and Learn.
Personally, after already experiencing all three of these opportunities I have felt even more prepared and qualified for the workplace. I have begun reading The Ideal Team Player and Blink, attended educational seminars, and had a Lunch and Learn to learn more about our software, ADP. All these experiences have been challenging me to apply the new information in my everyday work and life.
For any students who are considering applying to be an intern, I would highly recommend Bank Independent. If you are looking for opportunities to grow and apply the knowledge from the classroom to the business world, this is the place for you. I am constantly seeing my education overlap with my internship, and the skills I have learned so far are even helping me become a better student in the classroom.