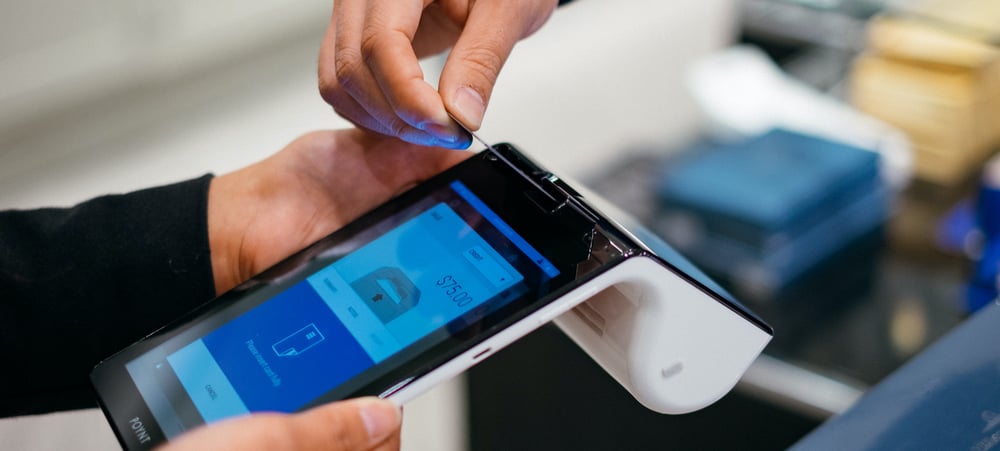 If you own or operate a business, you have most likely heard of Merchant Services. This is a financial term for a business's ability to process payments for goods or services. Depending on the business, that process can be anything from accepting cash to a multitude of transactions such as card readers, contactless payments or online shopping. And, depending on the merchant services provider you choose, you could receive basic payment processing capabilities or you can opt for robust hardware and software backed by expert customer service.
Never Miss a Sale
In today's ever-changing world, customers have come to increasingly expect the convenience of a cashless transaction. Research shows that roughly 29% of adults in the U.S. made a cash purchase on a weekly basis prior to the pandemic. That number has fallen to 16% post pandemic. Surveys also suggest that the average amount of cash people carry at any given time is less than $50. This cash gap is filled by the use of debit and credit cards or digital payment options.
Payments Software
Capturing every sale is a great starting point for any business. However, having the tools to integrate sales and manage your business offers is even better. Consider the software solution you choose can help you manage your point-of-sale systems, track and manage inventory, process inventory through bar codes, as well as provide the support for virtual shopping cars for online purchases.
A great software solution also provides 24/7 remote access to the system and provides detailed analytics. This becomes of key importance when managing multiple locations or supporting discounts or promo campaigns. The right software can also provide employee insights and track sales productivity.
A Bank Independent Treasury Solutions specialist can help you customize a system that meets your specific needs. Work with your own dedicated expert to understand how your business works and help you define your goals, all in a free, on-site consultation. You'll have the added value of on-site training and ongoing support, even outside the typical "bankers' hours."
Building Loyalty Beyond the Sale
Accepting multiple types of payment will help you grow your sales. Developing and implementing a loyalty program can help accelerate brand growth and encourage first time customers to become return customers. Maintaining that loyalty requires a strategic approach that rewards the customer and benefits the business. The reward needs to increase the value to the customer and in turn create a more profitable customer over time.
A well-structured loyalty program should be more than quickly planned promotional give-aways or monthly specials. They should benefit the business in the long-term cultivating sustained loyalty and return business. The loyalty program should also provide keen insights into customer trends, identifying frequency and purchasing power. It can help identify reward levels commiserate with the customer's level of loyalty.
Gift Card and Loyalty Programs can help you attract customers and build loyal, repeat business through:
A tailored program to suit the needs and goals of your business,
Cards that are compatible with payment terminals,
Business specific branding, and
Online reporting to monitor success.
Payments Hardware
The most robust solution for any business is an all-in-one, plug-and-play system that integrates sophisticated yet easy to use terminals backed by an integrated software system. Often presented as the next step up after graduating from standard or mobile card readers, it's to the benefit of a business to consider an all-in-one system first. Best of all, it can be custom-configured to your business' unique needs.
Card readers are still a great option to ensure that your business is capable of accepting all types of payments on site or online. If you operate a traditional on-premise business, a standard terminal is a great piece of hardware which allows your business to accept:
Widely-used credit and debit cards, including Visa®, MasterCard®, Discover®, and American Express®,
Contactless/Digital Wallet payments (including Apple Pay, Google Pay, and Samsung Pay), and
EMV or "chip" cards for secure, encrypted transactions.
Mobile card readers offer payment mobility and convenience for businesses that operate off-site or outside of a traditional store front. The card reader attaches to a mobile device and utilizes cellular or WiFi data to process transactions securely and conveniently. This is an effective tool for sales teams, service providers, entrepreneurs and non-profit organizations to manage transactions on the go.
For mobility within a business, consider a handheld Bluetooth or wireless terminal. This type of payment terminal connects to 3G, WiFi and/or Bluetooth and doesn't require the user to plug-in to a station. This is a great fit for your team to bring the sale to the customer to complete the transaction in settings like restaurants and retail.
Bank Independent Merchant Services
At Bank Independent got its start in 1947 because we believe a local bank, investing in local people is the key to making a positive difference in the community. We truly believe that if businesses in our communities succeed, our economy thrives. Our Treasury Solutions team wants to help your succeed with Merchant Services right for your business. To learn more about the types of hardware and software solutions we offer, contact us today for:
A dedicated Treasury Solutions team available for complimentary on-site consultations and follow-up
Flat-rate pricing
Self-service online reporting
24/7 customer service by phone
Electronic or paper statements
Give us a call Monday through Friday from 8:00 a.m. to 5:00 p.m. at (256) 386-5000 or (877) 865-5050 to speak to a Treasury Solutions Specialist.