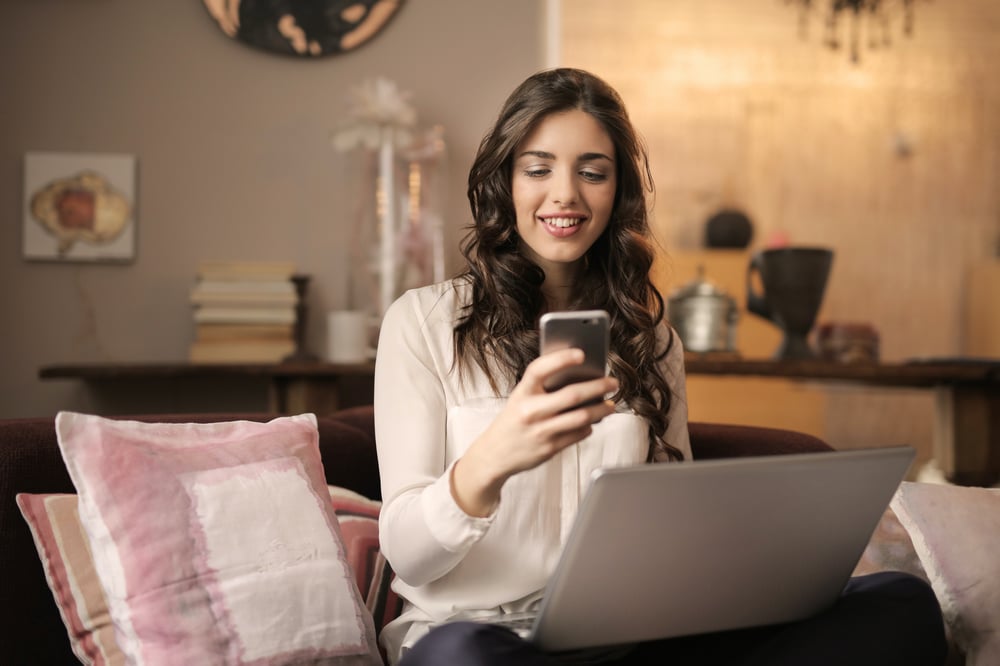 When you consider the number of online accounts the average user accesses each day, the amount of personal information vulnerable to exposure can be staggering. Do you know how to protect your accounts and prevent cybercriminals from stealing your information?
If you have ever created an online account, you most likely have been asked to create a username and password to access that account. The problem with requiring a user ID and password login is that most passwords can be compromised. A common technique fraudsters use to break into simple user ID/password accounts is called a "brute force attack." This is typically an automated tool that attempts to crack passwords by guessing a variety of username and password combinations until it finds the right one. It is a surprisingly easy means to gain access to your information.
Creating an Added Layer of Protection
When you secure your house to leave for the day, you most likely close the front door. You might also lock the door and engage the deadbolt. These extra layers of protection keep your home safe. So, consider your online accounts. What kind of layers can you put in place to ensure your accounts are protected?
If you are using a traditional user ID and password, you may want to look at ways to create stronger login security. Multifactor Authentication, or MFA, is a simple process that requires multiple methods to verify that you are the authorized user of an online account. This is typically achieved by combining two or more credentials that are specific to the users, such as: something the user knows, for example, your password; something the user has in their possession, like a security token; or something that is unique to the user, like fingerprints or facial recognition.
Utilizing MFA as a secure method of authentication may create an additional step or two logging in, but it will also make it more difficult for bad actors to steal your personal information.
Putting Multifactor Authentication to Use
Let's start with the most popular apps that can benefit from establishing MFA.
Facebook allows for two-factor authorization (2FA) to help protect a user's account. It is designed work in association with your user ID and password. According to the Facebook Help section, once established, you will be required to enter a special login code or confirm your login attempt each time someone tries accessing your account from a browser or mobile device not already recognized in your profile. The Facebook help page provides step-by-step instructions.
Instagram, also owned by Facebook, offers 2FA with instructions found on their help center page.

Both Snapchat and LinkedIn provide instructions for establishing 2FA as well as the ability to receive a separate login code via SMS text message or a separate authenticator app on your mobile device.
Shopping sites (Amazon, for example) have a multitude of shopping options and vendors all tied to your personal debit or credit card number. However, it is relatively important and easy to add 2FA with the preferred backup method being an authentication app or phone number.
Apple Music, Apple TV, and the App Store allows for cloud storage and movie, book, and app purchases. Setting up 2FA will require logging in with your Apple ID and answering a couple of your pre-set security questions along with confirming your payment option. Something to note, once Apple 2FA is activated, you cannot turn it off for the first 2 weeks.
Google likewise offers a range of services from GMail to the GooglePlay store. Google offers 2FA across multiple platforms to include Android devices, computers and iPhone and iPad. Additionally, they offer "Google prompts" to make it easier to enter a verification code and help protect your accounts if devices are hacked.
While you are adding these extra layers of security, don't forget about your email applications, grocery apps, tax services, membership apps and banking apps. Some services you use every day and others less frequently, but all have valuable personal information that you should take measures to protect.
Watch What You Click
As you go through the process of establishing multi factor authentication you should still be aware of the common tricks fraudsters will use to try and steal your information. The Federal Bureau of Investigation, FBI, has noted that cyber criminals rely heavily on phishing techniques to target victims. Often through emails, internet ads or texts with suspicious links, criminals will try to lure unsuspecting users to spoofed sites. Users will enter their login credentials into the fake site providing criminals access to their accounts.
With MFA and 2FA, you will be prompted through your back up method with a code or a request for authentication. Do not share that code with others or provide authorization unless you know you are the person who attempted to login. If you feel that your account has been compromised, the FBI recommends that you change usernames and passwords to prevent an additional breach.
Built in Safety Features
Your safety and security are priorities at Bank Independent. When you enroll with our Bank Independent Sync Mobile and Online Banking, you are prompted to establish two-factor authentication. If you or a stranger attempt to login with a new device, you will be prompted by your 2FA to authenticate the login attempt.
If you are suspicious of a login attempt, you can contact our Customer Service team Monday through Saturday from 8 a.m. to 8 p.m. You can also verify login attempts from within Sync. Go to your Name > Settings > Security > Recently used devices to view a list of devices used to access your account. If you do not recognize a device, you can delete it from your list. Any attempt to login from that device will prompt your 2FA method.
Sync Mobile and Online Banking comes with 24/7 convenience of banking from your device along with the security features that bring peace of mind.