(HUNTSVILLE, AL) October 5, 2022 -- The Orion Amphitheater is excited to announce new partnerships with Bank Independent and your Local Ford Dealers, also known as the Southeast Ford Dealer Advertising Fund (a market-area-based cooperative comprised of nearly 150 Ford dealerships throughout Alabama, Georgia and Tennessee).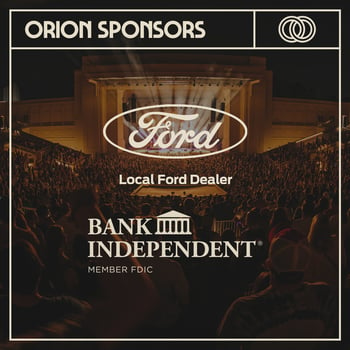 Bank Independent will serve as the amphitheater's "Exclusive Financial Institution," while your Local Ford Dealer is the "Exclusive Automobile Partner" of the venue. Both sponsors will be highlighted for the thousands of patrons attending upcoming events as well as across the official Orion digital and social media platforms.
"On behalf of the ten Ford dealerships in North Alabama who helped facilitate this partnership, it is an honor and a privilege to be a Foundational Partner of such an exciting new venture within our community," said Cathy Anderson-Stender, owner of Woody Anderson Ford and Southeast Ford Dealer Advertising Fund Board Member.
"Finding Foundation Partners that are aligned with the vision, aspiration and commitment to the community that we strive to have at The Orion is not always the easiest of tasks," said Ryan Murphy, General Manager of The Orion.
"I am extremely grateful to have found both the local Ford Dealers and Bank Independent to be flanked with the leadership and values that so squarely fall in this category. For all the work that both these organizations have done, and continue to do, throughout North Alabama is proof that this relationship is one that is formed to create great things in this community. We proudly partner with the local Ford Dealers and Bank Independent, and look forward to all the great things ahead." he added.
"Bank Independent is thrilled to be the exclusive financial partner of the new Orion Amphitheater. This sponsorship underscores our strong sense of community involvement and will allow us to showcase the unique brand of customer service we have provided North Alabama for over 75 years," said Bank Independent president Macke Mauldin.
"As a community bank, founded in the heart of Alabama's music row, we know the deep impact music and entertainment can have on an area, and we hope this state-of-the art facility has a tremendous impact for both our organizations and all of North Alabama."
The partnerships add to an already successful year for the venue, which has generated over $2 million in tax dollars to date and welcomed over 120,000 visitors since doors opened four months ago. Additionally, the Orion was recently awarded the 2022 Partnership in Tourism Award from the Alabama Tourism Department and was named Attraction of the Year by the Alabama Mountain Lakes Association. The venue is also nominated by the International Entertainment Buyers Association for 2022 Amphitheater of the Year.
The Orion Amphitheater continues to receive praise from both artists and fans who have attended events since the venue's grand opening this past May. Alabama's newest cultural destination will host concerts and community programming throughout the remainder of its inaugural season, including Luke Bryan, Stevie Nicks, and more. The venue will also feature events such as Rocket City Pride Fest and Records and Retro Market.
About The Orion Amphitheater
Huntsville's Orion Amphitheater marks a bold new chapter in North Alabama's unparalleled musical history. With its proximity to the iconic Muscle Shoals Sound Studio, Huntsville enjoys its status as part of the Americana Music Triangle, known for its cultural achievement as the birthplace of one of America's greatest exports, music. The Orion will go beyond music, providing cultural experiences throughout the year - including markets, art displays and educational events for the community, plus opportunities for local businesses and government to stage large-scale gatherings. The Amphitheater is an 8,000-capacity destination venue built by the people of Huntsville, for the people of Huntsville.
About Local Ford Dealer:
The Southeast Ford Dealer Advertising Fund (ie. Local Ford Dealer) is a cooperative of 157 Ford dealers in Alabama, Georgia, and Tennessee. For more information, please visit buyfordnow.com. Ford Motor Company (NYSE: F) is a global company based in Dearborn, Michigan, that is committed to helping build a better world, where every person is free to move and pursue their dreams. The company's Ford+ plan for growth and value creation combines existing strengths, new capabilities and always-on relationships with customers to enrich experiences for and deepen the loyalty of those customers. Ford develops and delivers innovative, must-have Ford trucks, sport utility vehicles, commercial vans and cars and Lincoln luxury vehicles, as well as connected services. Additionally, Ford is establishing leadership positions in mobility solutions, including self-driving technology, and provides financial services through Ford Motor Credit Company. Ford employs about 182,000 people worldwide. More information about the company, its products and Ford Credit is available at corporate.ford.com.
About Bank Independent:
Since 1947, Bank Independent has taken pride in serving the customers and communities who count on them to be there for them when they need them most. With 30 traditional Sales Offices across North Alabama, an on-campus Deshler Tiger Branch, and the Digital Sales Office, they are committed to providing the best service, designing the most desired products, and creating an overall excellent experience for each and every customer. As a locally owned community bank, they believe in building relationships that run deep and last. Team members reside in their local communities and believe in giving back through volunteering, serving nearly 10,000 paid community service hours with 95 organizations since 2011. Bank Independent proudly strives to make a positive impact on their community — supporting individuals and organizations through issuing thousands of dollars in donations, grants, and sponsorships, as well as serving local organizations such as thrift stores, food pantries, animal shelters, community parks, schools, gardens and much more. Since 2011, the Bank's Helping Hands program has had more than $3.3 million dollar impact in the communities of North Alabama and recently received 501c3 nonprofit designation as the BancIndependent, Inc. Helping Hands Foundation. As it celebrated 75 years of service to North Alabama, Bank Independent adopted the motto "Built to Serve, Not to Sell" to emphasize their commitment to remaining a local, independently owned bank and continuing to serve their communities.
###
The Orion Amphitheater press contact:
Olivia Christian
olivia.christian@tvghospitality.com