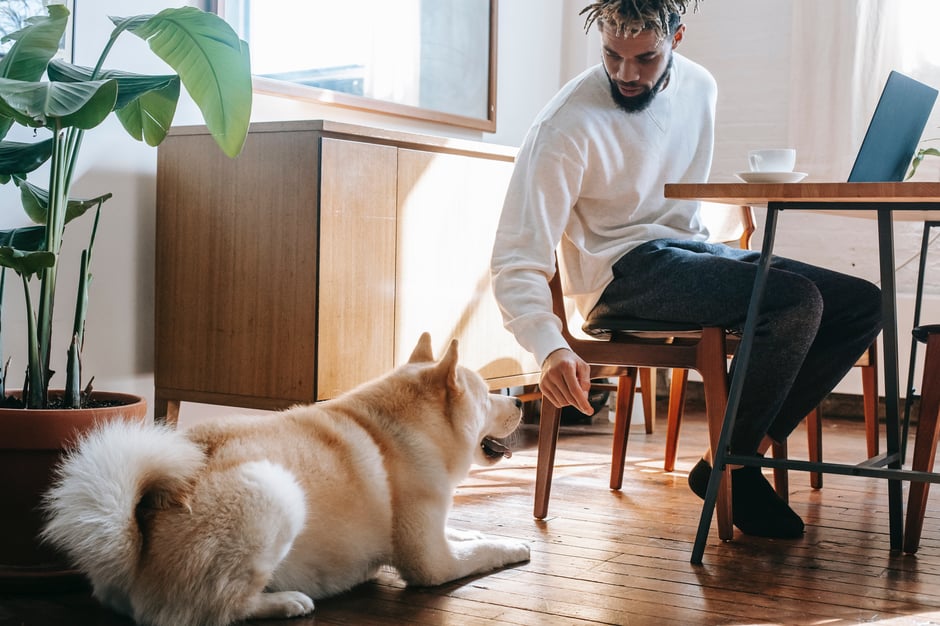 Not everyone is a pet lover, but if you are, your pet probably plays a significant role in your happiness and wellbeing. It's also your responsibility to ensure the wellbeing of your pet.
There are a lot of milestones in a young adult's life. These may include a first apartment, first job or first relationship. Now think of bringing a pet into the mix. Are you prepared for the responsibilities of juggling all of these things at once? Here are some helpful tips to to make sure you are ready to take on the responsibility of a pet:
The basics – Preparing your first home for a pet
Whether you have a low-maintenance pet like a fish, a fickle roommate in a cat, or you're welcoming man's best friend into your home, you need to consider several factors: space, neighbors, cost, rent, and time.
You can begin by taking a look at your lease. Does it have a pet policy clause? If not, pets may be strictly forbidden. If it does, there may be additional requirements or concerns to keep your pet in your home.
Pet deposits - Some landlords require an upfront pet deposit, which can run anywhere from a few extra dollars to several hundred dollars and is held in deposit against any damages caused by your pet during your residency. Pet deposits may also be non-refundable.
Breed limitations – Some breeds will simply be off limits to protect landlords from liability. Specific pets are banned for perceived aggressive nature, others due to weight or size.
Complaint policies – Be aware of any policies for neighbor complaints. You may not be aware of nuisance complaints, but your landlord will be.
Leash rules - Your pet may be well-behaved off leash. However, some neighborhood complexes have strict leash rules which must be followed if pets are walked outdoors.
Green space – Is there adequate private or public space to take your pet outside? What are the rules for waste management? Most neighborhoods require pet owners to clean up after their pets.
Upkeep – All the luxuries
We know you only want the best for your new furry roommate. There are so many things your pet needs, it can be hard to keep up with it all. Here are a few of the top needs to keep in mind:
A place to sleep – A simple, but important consideration, is where your pet will sleep. Whether you plan to crate train or even if your pet takes over your bed, it's important that they have a safe and familiar place to get some rest.
Food – Maybe your pet is a picky eater or maybe they eat anything in sight. There are so many brands and flavors of pet food to choose from. Find one that works best for you and your pet.
Toys and entertainment - Just like people, our pets get bored of just lying around the house, too. Toys are a great way to distract your pet from getting into that plant your mom bought as a housewarming gift or chewing on the new coffee table you just bought. Providing your pet something to play with and keep them active is not only great for them, but will be helpful for you as well.
Grooming – Let's not forget about keeping your pet clean and pretty. Finding a shampoo that is good for your pet's fur and skin is important. Of course, there's always the option to take them to a groomer who will take good care of your pet and return them looking brand new. If your pet has long, sharp claws you may also consider trimming them, or taking them to be trimmed every once in a while. This will prevent them from scratching you or destroying your furniture.
Boarding/pet-sitter – When you are away from home for an extended period of time, you also have to consider who will care for your pet. You may consider a pet-sitter, or ask a neighbor or friend to stop by to check on your pet. You also have to prepare in advance when you are out of town. Be sure to make arrangements for your pet to stay with someone you trust or look into boarding your pet while you're away, knowing they will be in good care.
Expenses – They keep adding up
There is more to consider than meets the eye when preparing to welcome a pet into your home. We've covered the basics from pet-proofing your home to keeping your pet looking and smelling clean. Now let's take a look at potential additional expenses.
Adoption fees – Whether you choose to adopt from a shelter or purchase a specific breed, there are typically fees to be paid. These fees will vary depending on your preferences.
Veterinarian visits – Be prepared to take your pet for check-ups when the time comes. Visits may be more frequent while your pet is still growing. Along with routine check-ups, you need to prepare for unplanned emergency visits.
Insurance and registration – Does your town or city require pet registration? What about collars or license tags? These are items that may be a necessity for your pet. New pet owners may also want to consider pet insurance. This could potentially save you a few extra dollars on those license tags or vet visits.
Training – Proper training can reduce the stress of welcoming a pet into your home. Whether you decide to take on the challenge yourself or pay a professional to do it, training will benefit both you and your pet. Training instills the manners and obedience a pet needs to live in your home and interact with other pets and people. This will make life easier as you transition into your new home with your new pet.
Finances – Expect the unexpected
Prepare for the future with your pet by creating a strong financial plan. Bank Independent offers our Essential Student Checking and Savings accounts specifically for young adults between the ages of 15-25 to encourage healthy saving habits and money management skills, which can help you prepare to balance the responsibilities of pet ownership.
All the bells and whistles - Essential Student Checking comes loaded with convenient features like free Sync Mobile and Online banking, Mobile Deposit, a secure Bank Independent Debit card, and digital wallet options which allow you to make purchases right from your phone. And best of all, you can enjoy no service charges on your account.
Smart Savings - Create an Essential Student Savings account specifically for your budgeted pet expenses. Help those savings add up faster by enrolling in Smart Swipe. Every time you use your Bank Independent debit card, we'll round your total up to the next dollar and move the difference into an account of your choice. It's a fast and easy way to build your savings.
Hopefully these tips and reminders help make things a little easier as you welcome your new pet into your home. You can help other pets find their happy home when you help support local animal shelters through the Bank Independent Shelter Share Drive as part of Helping Hands. Learn more at: bibank.com/helping-hands.