The holidays are coming up, and that means it's time to start thinking about your shopping list. But before you go spending your hard-earned money on gift after gift, take a moment to read through these smart shopping tips. These tips will help you stay on budget and find the perfect gifts for your loved ones.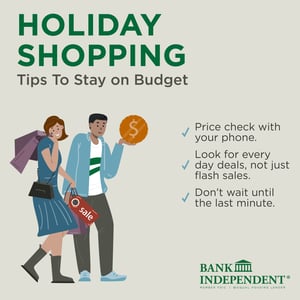 So, without further ado, here are our top holiday shopping tips:
Set a budget and stick to it
Shop around and compare prices
Use coupons and discounts
Buy gifts from sale racks
Consider homemade gifts
Shop online
Stick to a list
Make a List and Check It Twice
You're probably starting to think about your holiday shopping list by now. (If you haven't already, you should get on that.) And one of the best ways to save money is to make a list and stick to it.
That means no last-minute shopping sprees or buying things on a whim. If it's not on your list, don't buy it. And be realistic about what you can afford. Sure, it's tempting to buy your loved ones the latest and greatest gadgets, but maybe this isn't the year for that.
Another tip? Try to buy gifts that are versatile and can be used for multiple occasions. A nice scarf or a pair of earrings can be worn for any number of occasions, and they're sure to please any woman on your list.
So, take some time to plan out your shopping strategy, and you'll be sure to save some money this holiday season.
Set a Budget and Stick to It
You've probably heard this one before, but it's worth repeating: set a budget and stick to it!
If you go into holiday shopping without a plan, you're just asking for trouble. You'll end up buying things you don't need and spending way more money than you intended.
One way to stick to your budget is to create a list of the people you're buying gifts for and then come up with a budget for each person. That way, you won't end up overspending on one person and underbudgeting for another.
Another tip is to wait to buy gifts until the last minute. If you're patient, you'll be able to find good deals on things that are still in stock. Just be sure not to wait so long that the stores are sold out of what you're looking for!
Shop Early (And Often) for the Best Deals
The best way to save money during the holiday season is to start shopping early. If you wait until the last minute, you're going to be competing with a lot of other people for the best deals.
But if you start shopping now, you'll have plenty of time to find the best deals and take your time to make sure you're getting quality items. Another great thing about shopping early is that you can spread out your expenses over a longer period of time.
And don't forget to shop often! Retailers are always offering new deals and discounts, so it's worth checking their websites or stores frequently to see what's new.
Hit the Sales before and After Christmas
It's no secret that the best way to save money during the holidays is to shop the sales. But did you know that there are two different types of sales?
There are pre-Christmas sales, which usually happen in late November or early December. And then there are the post-Christmas sales, which happen in late December or January.
If you want to get the best deals, you should hit the sales before and after Christmas. That way, you'll have a better chance of finding what you're looking for, and you'll save more money in the process.
Get Creative with Your Gifts
This year, get creative with your gifts. Instead of buying something for everyone on your list, think about ways you can DIY. There are a lot of great tutorials out there that can show you how to make everything from jewelry to home decor.
Not only will this save you money, but it'll also make your gifts more personal and unique. So why not give it a try? You might be surprised at how much fun you have in the process.
Check for Coupons and Discounts Before You Buy
When you're shopping for the holidays, be sure to check for coupons and discounts before you buy. You might be surprised at how much money you can save.
A quick online search will turn up all sorts of deals, so take the time to look through them before you make your final purchase decisions. You might also want to consider signing up for email alerts from your favorite stores so you can stay up to date on the latest sales and discounts.
And don't forget to use your loyalty cards! Many stores offer loyalty members exclusive discounts and bonus points. So be sure to take advantage of them and save even more money.
It can be tough to stick to a budget during the holidays, but it's possible. With a little planning and some smart shopping strategies, you can save money and still get the gifts you want.
Here are a few tips for staying on budget this holiday season:
Set a budget and stick to it.

Make a list of everyone you need to buy gifts for and stick to it.

Shop early to take advantage of sales and discounts.

Look for deals online and in-store.

Avoid overspending by avoiding temptations like shopping malls or online boutiques.

Stick to practical gifts that people will use.

Repurpose old gifts or use them as stocking stuffers instead of buying new ones.

Get creative with your gift-giving and be creative.

Make sure to set aside money for post-holiday expenses like New Year's Eve celebrations and Christmas tree decorations.

Have fun! The holidays are about spending time with loved ones, not about breaking the bank.