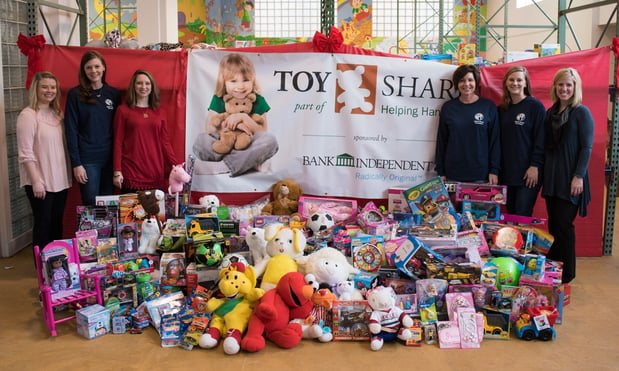 I must admit I am ready for Christmas music.
Yes, I am one of those people who does not mind hearing the holiday jingles in the department stores prior to Thanksgiving, or witnessing the trees and ornaments that make up the breathtaking displays in the windows. It is almost that time of the year for us to migrate into a hyper-pace speed that will get us through the season. Parties, shopping, and making sure we have checked every last detail off on our list seem to consume our thoughts. The holiday season is my favorite time of the year for many reasons. It is not only a time to celebrate and create memories with family and friends, it is a time for giving. It is a time to teach my son the true meaning of the season, and that is sharing with others less fortunate.
Each year my son looks forward to buying a toy for another boy he does not even know in hopes he will be just as excited receiving it as he is picking it out. After the selection of the toy, book or tech item he is ready to visit a branch of Bank Independent to drop it in one of the Toy Share bins. This is a moment for him and for me as a parent. To see the joy in his eyes gently putting the gift on top of the mound of other items shared from so many other thoughtful children, customers and community members is the best gift.
I am fortunate because I have been a part of Bank Independent's Toy Share since the launch of the drive in 2011. Each year the toy drive continues to reach more families through our partners throughout the seven counties served by Bank Independent. Organizations include SafePlace of the Shoals, The William Porter Foundation, Committee of Church Cooperation, Rogersville Volunteer Fire and Rescue, Angel Tree Program in partnership with Lexington School, Cornerstone Church in Moulton and Department of Human Resources of Limestone County. I have been brought to tears hearing the personal stories from our partners that it is my goal to enhance the program each year.
Since its establishment in November 2011, there has been a total impact of over $314,000 given back to the community. We are preparing for another incredible season of collecting new, unwrapped toys and creating memories for many deserving families. I invite you and your family to join Bank Independent, along with my son and me for the sixth annual Toy Share drive and help us put smiles on hundreds of kid's faces this holiday season.