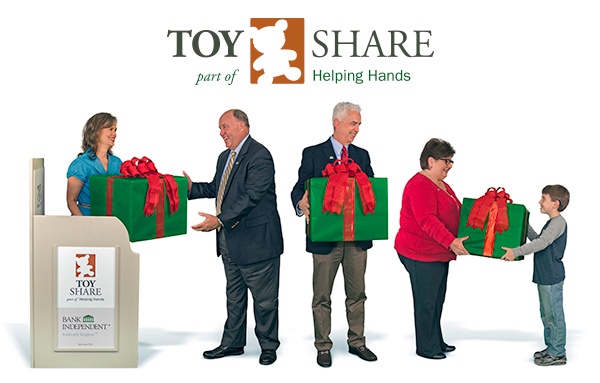 It's the most wonderful time of the year! We all recently stuffed ourselves on turkey, shopped for deals during Black Friday, and wept with tears of joy or sorrow (depending on who you root for) while watching the Iron Bowl. With those fall moments behind us, the holiday season has officially begun!
We here at Bank Independent love the giving season, and we need your help to make it our best yet.
From now until December 15th, all Bank Independent branches will be collecting new, unwrapped toys for the following local organizations for distribution:
Angel Tree Program, in partnership with Lexington High School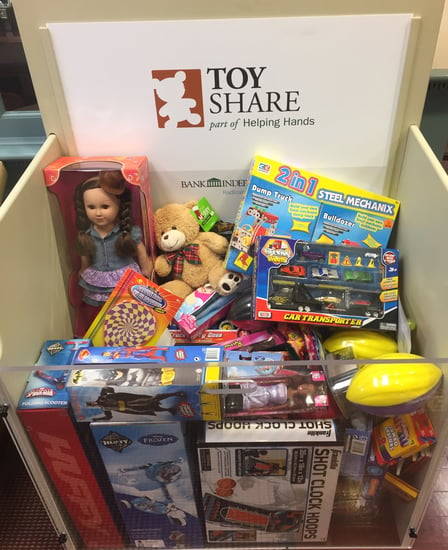 In its 40 years, the Angel Tree program, an outreach of the Salvation Army, has helped provide gifts to thousands of children who otherwise may not have received any. With toys and gifts provided by the community, it is a truly unique program because it allows people to give gifts to those in their own backyard.
Christmas Charities Year Round of Madison County
This non-profit organization provides basic necessities, such as clothing, to those in need throughout the year. During Christmastime, it also supplies toys and meals to those in the community at no cost to them. Started in 1949 after a boll weevil infestation destroyed the crops in Madison County, local civic leaders saw the huge strain this placed on the farmers in the community, so they started a program to supply donated children's clothing so the children could start school with the things they needed. That Christmas, toys were donated as well. Thus, Christmas Charities Year Round of Madison County was born!
Committee on Church Cooperation (CCC) of Morgan County
The CCC is a nonprofit organization helping those in need of food, shelter, medical care, and, during the holiday season, Christmas toys for those who otherwise couldn't afford them.
Cornerstone Church, Lawrence County
Cornerstone, a nondenominational and spirit-filled church located just a few miles north of Moulton, has partnered with Bank Independent in past Toy Share drives to help collect more and more toys for Lawrence County families.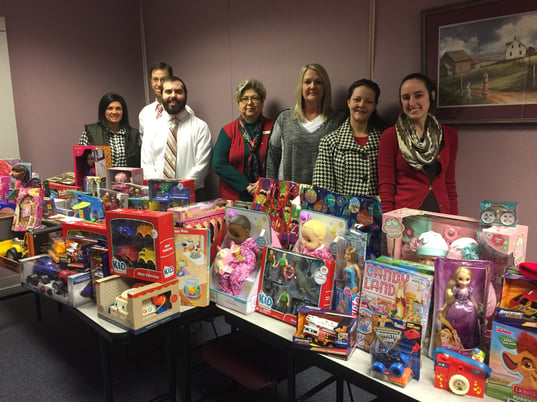 Departments of Human Resources in Franklin, Lawrence and Limestone Counties
The Department of Human Resources was created in 1935 to administer to the assistance programs that were part of the Social Security Act. These programs were developed to help an American public that was suffering through the financial hardships of the Great Depression, and today still serve thousands of families in need in counties across Alabama. Among the many services provided by our local DHR teams are family assistance programs, which include making the holidays brighter by providing toys for the many children who are registered in the program.
North Alabama Christian Children's Home
The North Alabama Christian Children's Home (formerly known as the Lauderdale County Christian Children's Home) is a 501(c)3 group home that provides 24/7 care for up to 22 children at a time, offering a safe haven for children ages 6 to 17 who have come to them from negative environments. As a faith-based group home, the organization strives to help children feel secure, safe and like part of a family, which includes providing toys and gifts on Christmas morning.
Rogersville Volunteer Fire Department
The hardworking heroes of the Rogersville Volunteer Fire Department seem always to be involved in the community they serve and protect. From fish fries to saving lives, the firefighters live to give back, and the holiday season is definitely no different. Bank Independent is proud to partner with these guys (and gals!) to collect toys to make Christmas morning even merrier for Rogersville area children.
Safeplace of the Shoals
Since it was opened in 1981, Safeplace Inc. has been providing shelter, counseling, and outreach programs for families dealing with domestic violence. The mission of Safeplace is to live in a world where domestic violence does not exist. Your toy donations will go to help children in these tough situations have the best Christmas ever!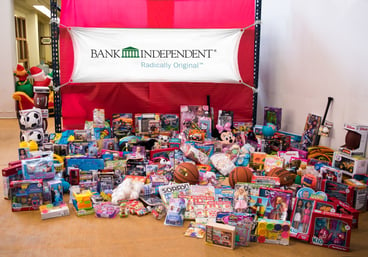 William Porter Foundation in the Shoals
What's so unique about the William Porter Foundation is that the toys received through donations are set up and arranged into their own little Christmas toy store! Children and their parents are able to "shop" the toy store for their gifts. This helps create a feeling of excitement and anticipation that makes the giving season something truly special. The late William Porter inspired his wife and daughters to create the organization to continue his spirit of giving and helping those in need even after his passing.
Any donation received at our branches before December 15th will go to the wonderful and deserving organizations listed and described above. We look forward to seeing you soon, and from all of us at Bank Independent, Merry Christmas and Happy Holidays!