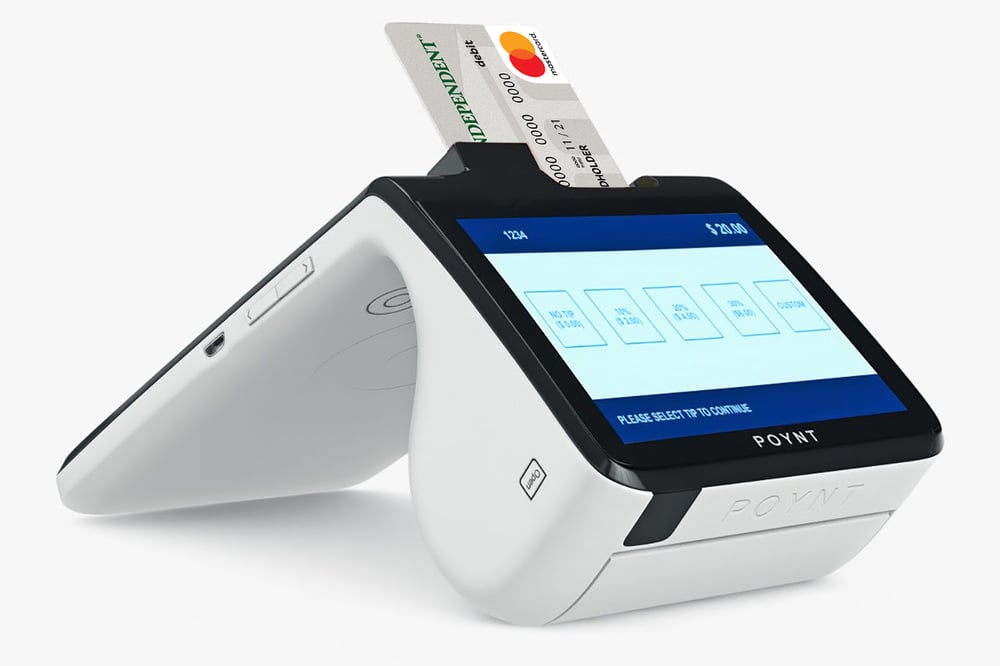 When operating a business, you quickly learn that there is a lot of unique language specific to merchant services. Merchant Services is a general term used to describe the hardware and software components used to accept and process debit and credit card payments. There is an ever-growing list of the types of payments, from online purchases to in-person. Three of the most common processes are swiping, dipping and tapping.
Swipe
One of the long-running features associated with point-of-sale payments is the magnetic strip found on the backs of debit and credit cards. Often called a magstripe, this thin, dark band running the width of the card is made up of miniscule, iron-based magnetic particles capable of storing data.
Using a storage process similar to cassette tapes, the magstripe writes data by magnetizing the tiny components in either a north or south pole direction. The data stored on the stripe can be read as a result of the motion of the card being swiped through or inserted into a card reader. A swipe of the card can provide important information at the point-of-sale, including, whether the card number is valid, the expiration date, and any credit limits impacting the use of the card. Sales can be validated by the cardholder entering their PIN, or personal identification number, into a keypad.
While the magstripe is a well-used feature, it is possible to damage the information stored on the card. Something as simple as a dirty or scratched magstripe can affect readability. Magstripes can also be erased should they be exposed to magnets, such as, purse or wallet magnetic closures, refrigerator magnets or even in-store devices used to demagnetize security tags placed in merchandise.
Dip
If you are asked to dip your card at a point of sale, you're actually being asked to insert your debit or credit card into a DIP (Document Insertion Processor) card reader. A DIP reader can read both a card encoded with a magstripe or EMV card chip. A magstripe bar is read as the card is extracted from the card reader. If the card contains an EMV chip, the reader transfers data while the card is fully inserted into the device.
EMV is short for Europay, MasterCard and Visa, a technology that was developed to improve transaction security. Where a magstripe contains a static layer of data, the EMV chip prompts a unique code to be generated with every transaction. An extra layer of security is added when an EMV chip card is used in conjunction with a PIN. As chip cards become more standardized as security-added feature, so too will DIP readers.
Tap
Contactless-enabled terminals can accept payments using short-range wireless technology by way of tapping a contactless chip card, or a payment-enabled mobile or wearable device (like a smart watch) to make secure payments. Cards with this capability bear a Contactless Symbol on the card and contactless payments can be accepted on card readers bearing the same symbol. Your payment is sent for authorization when you tap your card or device near the Contactless Symbol.
Contactless "tap" cards use a technology called near-field communication, or NFC. That small, convenient card you carry in your wallet contains a chip and an antenna which sends a random token over radio waves and is distinct for each purchase. The token is comprised of numbers and symbols to provide card data with proven and effective security.
Contactless "tap" cards provide the same layered protection as an EMV chip card but offer more convenience for the user. Both the Tap card and EMV chips are considered more secure than magstripe cards.
Capture it All
A robust point of sale system can do more than just read cards. An all-in-one, plug-and-play solution can help manage multiple aspects of your business. Your merchant services contact can do more than drop off equipment. A dedicated Treasury Solutions expert can tour your business, listen closely to your needs, and help you find the right hardware and software right for you and your business.
Learn how an integrated payments software can be custom-configured to meet the unique needs of your business. Selecting the right point of sale system will help your manage inventory with the efficiency of bar codes, manage shopping cards for online purchases, provide detailed analytics and so much more.
Contact a member of the Bank Independent Treasury Solutions team to schedule your free, on-site consultation. Give us a call Monday through Friday from 8:00 a.m. to 5:00 p.m. at (256) 386-5000 or (877) 865-5050 to speak to a Treasury Solutions Specialist.