Speaking for those of us who have lived in north Alabama for most or all of our lives, I think that sometimes we may take for granted the incredible treasures that make our area a destination for visitors.
Some attractions come to mind immediately, like the birthplaces of Helen Keller and W.C. Handy in the Shoals, General Joe Wheeler's home in Hillsboro, the Old State Bank in Decatur, and the U.S. Space and Rocket Center in Huntsville.
One of the more hidden gems, though, is the Oakville Indian Mounds Education Center in Danville.
I first learned of this historic site when members of Bank Independent's Moulton and East Lawrence sales office teams requested Helping Hands time to volunteer for a clean-up day at the park. (Bank Independent provides eight hours of paid volunteer time to every employee each year, and coordinates volunteer events in which up to ten team members can participate).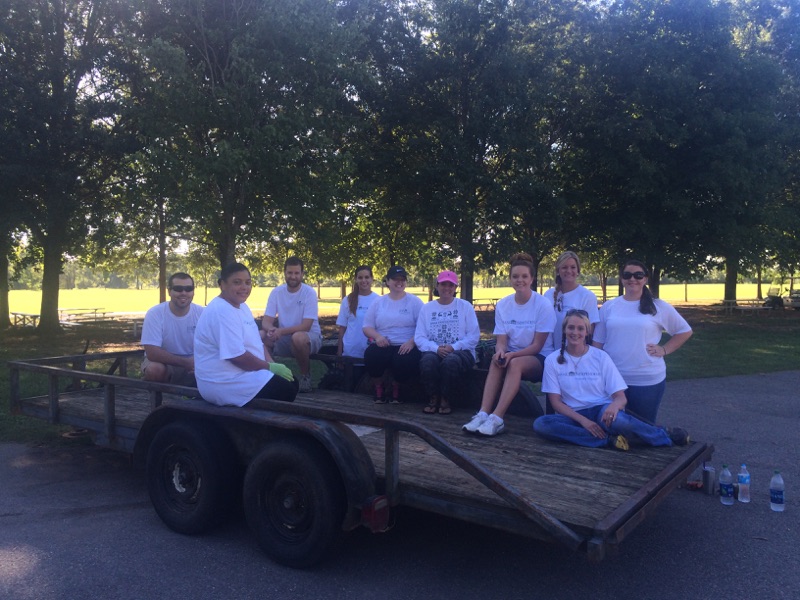 On August 16, 2016 our Helping Hands team was among the many volunteers who pitched in to clear debris, paint, pick up trash and trim the thousands of trees that line the 122-acre property's trails and roadways. The clean-up day is an annual effort to prepare the park for school-year events, which are among our top three reasons to make an excursion to Oakville Indian Mounds a priority:
1. Indian mounds--Although archaeologists identified five mounds on the Oakville property in 1924, only two of these mounds remain majestically intact. The Oakville Ceremonial Woodland Mound, at 27 feet high and covering 1.5 acres, is the largest Woodland Mound in Alabama. The Copena Mound, at 20 feet high, is one of the largest burial mounds in the state. The mounds are 2000 years old and commemorate the rich heritage of the Echota Cherokee tribe.
2. Indian Education Center--Did you know that Lawrence County, Alabama is home to the second largest Indian population in the state? Every year over 1700 Lawrence County students with Indian roots visit the museum at Oakville as part of an educational program designed to help them learn more about their heritage. The seven-sided museum is also open to the public throughout the week and is definitely worth a visit.
3. Cross-country events--With its close proximity to the Oakville birthplace of track and field Olympian Jesse Owens, it's only fitting that the Oakville Indian Mounds park has gained a reputation as a premier site for state and regional high school cross-country competitions. Every year these events--in addition to community fundraisers such as the Green Corn Run--attract tens of thousands participants and spectators to Lawrence County.
Even though it's hard work, our Helping Hands volunteers look forward to their Oakville clean-up event every year. Take a few hours this fall for a day trip to Oakville to enjoy the beauty of the park, maybe take a walk or jog, and definitely learn more about the incredible history of the area's original inhabitants.
Would your charitable organizations benefit from Bank Independent's Helping Hands volunteer efforts? Complete our Volunteer Request Form and let us know how we can help!