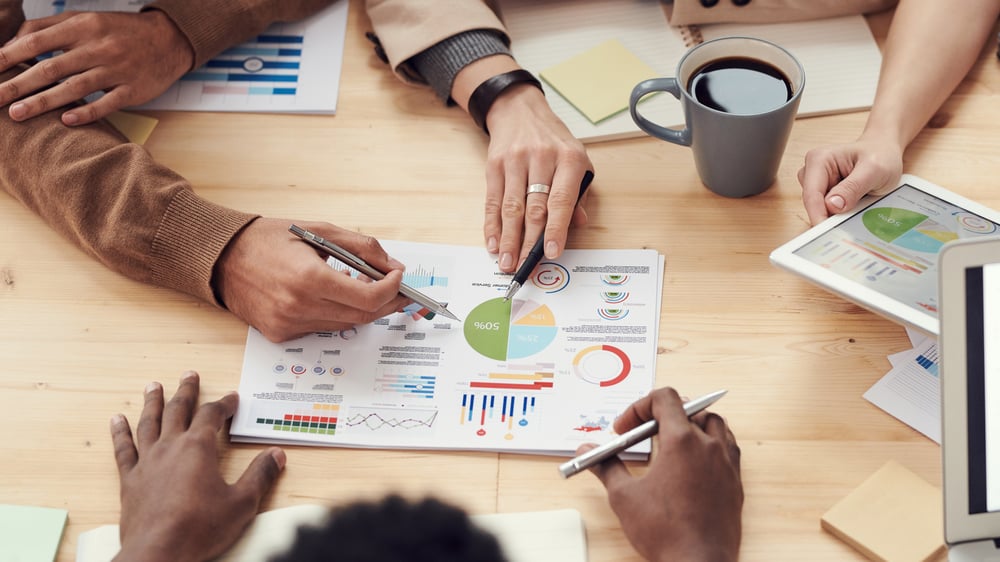 Can a small business have the same competitive advantages that large-scale businesses enjoy? When it comes to treasury solutions – absolutely. No matter the size of your business, you have financial needs and banking relationships which need to be maintained in order to thrive.
ACH Payments
Automated Clearing House (ACH) is a secure and convenient process to electronically transfer funds from bank-to-bank and account-to-account. ACH can work well for any size business to simplify how you handle credit and debit transactions.
Consider the time and effort spent on payroll. ACH allows your business to establish direct deposit payroll into your employee's individual accounts. Direct deposit payroll reduces the need for paper checks and cuts down on time employees require to manually deposit paychecks.
Reduce potential errors and delays from paper checks in general. It is not unheard of for mailed checks to get lost, delayed, or even delivered to the wrong address. This can happen with checks your business is sending out as well as checks you anticipate receiving. ACH avoids the delays and allows you to pay vendors' invoices or bill and collect customer receivables electronically and on time.
Enjoy the efficiencies of having dual control ACH processes. Bank Independent also offers Same-Day ACH, which means ACH recipients will receive funds in their accounts on the same business day the ACH was originated.
Check Deposit
ACH offers a great convenience, but the reality of most businesses is they still thrive on written checks. Processing and depositing checks into your bank account takes time that could be better spent elsewhere. There are a couple of convenient solutions depending on the number of checks you process during the month.
If your business typically deposits less than 25 business checks per month, you might consider a mobile deposit option for business. Bank Independent offers a mobile deposit option within the Sync mobile banking app. No more waiting to deposit checks or taking time out of your workday to visit the bank. Deposits can be made anywhere you carry your mobile device with a simple and secure process.
If your business deposits more than 25 business checks per month, Remote Deposit Capture (RDC) allows you to process checks from your desktop. Using an easy-to-follow program, RDC lets you scan checks through a telephone-sized check scanner. The device reads each check, creates a stored image, and prepares a deposit ticket. You simply confirm the amount of each check and the deposit total and transmit the information through a secure connection.
There are added benefits to RDC. Your business gets easy access to online deposit reports. Any deposits made by 8:00 p.m. Monday through Friday are credited to your account on the same day. And of course, eliminating trips to the bank means you can put more time back into running your business.
Positive Pay
Checks can present an opportunity for fraud through counterfeit or altered check presentations. A great way to protect your business accounts from unauthorized check transactions is to enroll in a service like Positive Pay.
Positive Pay is a service provided by Bank Independent. Consider it a bit of checkbook housekeeping. You upload to Online Banking a file listing information about any checks written from your Bank Independent business checking account. When checks are presented for payment, we compare the checks to the information you submitted through Positive Pay.
If the information does not match, we do not complete the transaction. You will be notified through a manner of your choice, whether by text, email or within Sync online or mobile banking. You can pay or return check exceptions easily through online or mobile banking. Positive Pay gives you added control over your business account, not to mention peace of mind.
Treasury Solutions Services
Our Bank Independent Treasury Solutions team is here to help your business thrive. We want to remove your banking burdens so you can get back to what you do best.
Choose Bank Independent for:
A dedicated non-commissioned Treasury Solutions team at your service,
Complimentary on-site consultations and follow-up,
Flat-rate pricing,
24/7 customer support for merchant services by phone, and
Flexibility you can only get from an independent bank.
Give us a call Monday through Friday from 8:00 a.m. to 5:00 p.m. at (256) 386-5000 or (877) 865-5050 or request a call at your convenience from a Treasury Solutions representative.