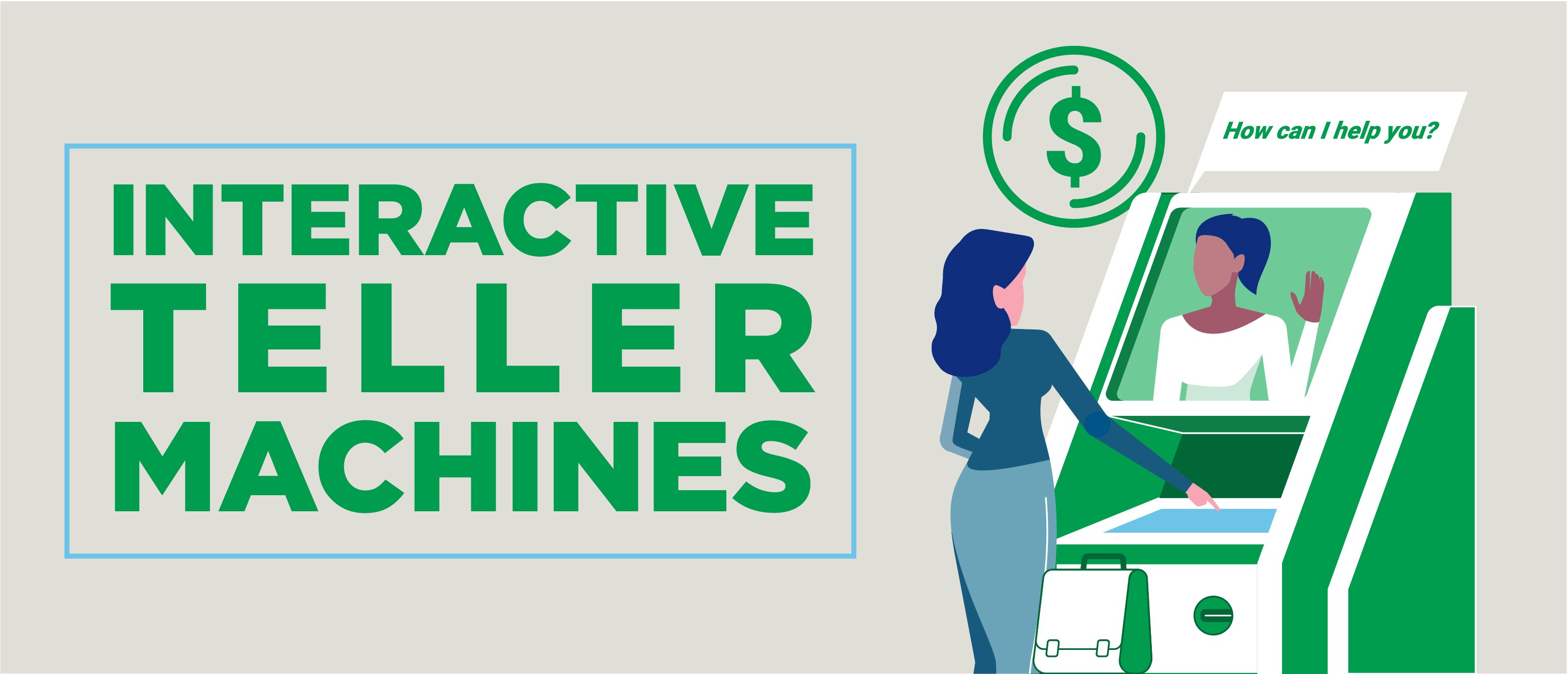 Today, many people rely on mobile apps and their financial institution's website to conduct their banking functions. While people still rely on ATMs to withdraw money or deposit checks, many intuitions now offer interactive teller machines.
ITMS AND ATMS: WHAT'S THE DIFFERENCE?
We would not have the interactive teller machine without the ATM. However, customers should know that an interactive teller machine does not solely function as a cash machine, though some features overlap.

ATMs first dispensed cash. Now, they serve a wider range of banking needs. They provide account balances, allow people to deposit checks into checking accounts or savings accounts, and interactive teller machines make it possible for people to transfer money between accounts or even make loan payments.

Now, some ATMs have more technological advances like touch controls and sound to help the hearing impaired. When an ATM uses video as a way to connect customers with bank tellers, the machine transforms into an interactive teller machine, making the machine a subset of the automatic teller.

Both types of machines let you withdraw cash or deposit money. However, an interactive teller machine connects you with bank tellers when needed.
An interactive video teller can help if:
If you lose a credit card or debit card then you can't get money or perform other banking functions at a basic ATM. In contrast, an interactive teller machine lets you prove your identity by showing some form of identification like a driver's license or state ID.
If you need bills in different increments. Request and receive bills in increments of $100s, $20s, $5s and $1s, and coins in quarters, nickels and pennies – just as you would when interacting with a regular teller inside the bank.
BENEFITS AND ADVANTAGES OF THE INTERACTIVE TELLER MACHINE
Interactive teller machines help banks and their customers in the following ways:
Interactive teller machines provide customers with more choices – customers decide if they want to use that technology to bank or have a more traditional interaction.
The interactive teller machine helps customers who work third shift or nontraditional schedules. They bring banking features to them in a personalized way that better fits their schedules.
They allow for person-to-person transactions as you see a team member's face on the screen.
If you are pressed for time and see long teller lines, an interactive teller machine provides faster service.
Interactive tellers have the ability to handle up to 80% of bank transactions.
Multiple transactions can be handled in one session.
HOW TO USE AN ITM: THE QUICK GUIDE
Below you will find a quick, step-by-guide to using an interactive teller machine. In this example, we will focus on a cash withdrawal and since you don't have your debit card, you cannot use a typical ATM.
Follow the below steps:
Touch the screen to connect with a live teller.

When the teller appears on the screen, let them know you want to withdraw $100.

Present your driver's license or another form of ID into the scanner.

The teller will verify the account you want to withdraw from.

Tap the submit button – this takes the place of a signature.

Take the money, your receipt, then get on with your day!