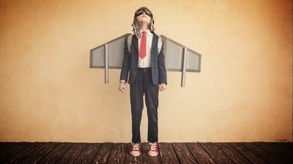 Astronaut, actor, athlete. These are some of today's ten most common childhood "dream jobs." (Sign of the times: when I was growing up my friends and I imagined ourselves becoming nurses, teachers, and firefighters. Sigh.) Although it's admittedly hard to determine at age six what we'll be doing with our lives twenty years later, some people actually do end up in the profession they aspired to during childhood--a surprising 30 percent, in fact, per a recent Linked In study.
So why aren't more children listing "banker" in their top ten? Or even top 20? Why aren't they asking their dads to install drive-thru drawers in their playhouses, or trying to locate ATMs instead of Pokemon creatures? Why don't kids today ask their playdates to complete pretend loan applications to finance a new Lego subdivision?
Banking's bad rap
Maybe it's because bankers, and the banking profession, have a reputation problem. The 2008 financial crisis hurt. Instead of thinking of bankers as the kind ladies who give them suckers or the nice man who helped their parents buy a new home, perhaps today's youngsters have visions of greedy red-faced ogres leaving a trail of crushed dreams and empty bank accounts in their wake.
In reality, and in all honesty, a banking career is an "excellent option for young people entering the workforce," according to the American Bankers Association (ABA). This conclusion is based on solid numbers: The Bureau of Labor Statistics project bank employment will grow eight percent from 2008 to 2018 as customer needs and technology evolve.
Consider these very encouraging signs that banking as a profession is not going away: A growing population of Baby Boomers means a higher demand for bankers who can assist with retirement and savings accounts, while an ever-increasing interest in mobile banking creates a need for information technology professionals and customer support representatives. And as our economy continues to strengthen, the financial needs of businesses are growing as well.
Of the two million Americans employed in the banking industry, over two-thirds are on the "front lines"--the tellers, personal bankers and customer service representatives who directly support bank customers. These are exciting and incredibly rewarding positions and, despite the positively untrue belief that "branches are going away," there will always be a need for real bankers who can provide vital face-to-face or voice-to-voice support to customers.
Equal opportunity employers
The other one-third of today's bankers are involved in the day-to-day behind-the-scenes roles that support the needs of the customers and branch teams. Financial institutions offer a great variety of these "non-financial" opportunities like human resources, marketing, communications, training, information technology, security, legal, cybersecurity, accounting, graphic design, facilities management and more.
With such diverse career options, it's not surprising that many of the folks at Bank Independent are not finance or accounting majors. In fact, our team members have experience and education in a wide range of fields, including nursing, teaching, retail, history, English, criminal justice and even culinary arts in addition to the necessary specialized degrees like IT and law.
When it comes to some positions, especially those that are customer-facing, your degree choice can be secondary to your other attributes. Here at Bank Independent, we pride ourselves on delivering exceptional customer service, which requires a special set of skills, experience and characteristics that are not necessarily dependent upon your chosen field of study.
I'm still skeptical...
Now that you know the doors to the our industry are indeed open to you, why should you choose to make a career in banking? Here are a few considerations:
Banks offer better-than-average compensation and benefits with comfortable working conditions and flexible hours. Bank Independent's benefits, I must say, are incredibly generous--even for new and part-time employees. And although few banks still offer the fabled "bankers' hours," most are still closed on Sundays and don't require overnight shifts.
Banks provide extensive on-the-job training and development. Remember that our industry attracts and appreciates a wide variety of backgrounds; however, we provide ongoing industry- and role-specific education to ensure that every team member can serve the customer exceptionally--even in an ever-changing regulatory environment.
Banking can be a lifelong career. OK, so these days most people don't imagine themselves working for the same company for fifty years and retiring with a gold watch like our grandparents did. But why not? If you're yearning to try something new, you can always explore new opportunities within the bank. Banks often promote from within and value experience from other departments.
Banking is rewarding. To most consumers, the branch teller is the face of the bank--their "banker." It's a very important job. Let's face it, for most people our money ranks right up there with our children and our identities when it comes to things we hold dear and would fight to protect. Bankers keep folks' finances safe, secure and accessible. We can also be integral in helping our customers' dreams come true, whether it's a home purchase, starting a business or preparing for a comfortable retirement--and how rewarding is that?!
Now I promise this blog wasn't intended to be a recruitment tool for Bank Independent (although I do believe we're hiring!). I do hope, however, that you've gained a better understanding of the world of banking and the opportunities that abound within the industry.
Maybe one day "banker" will rank right up there with singer, engineer and airline pilot in YOUR list of dream jobs!