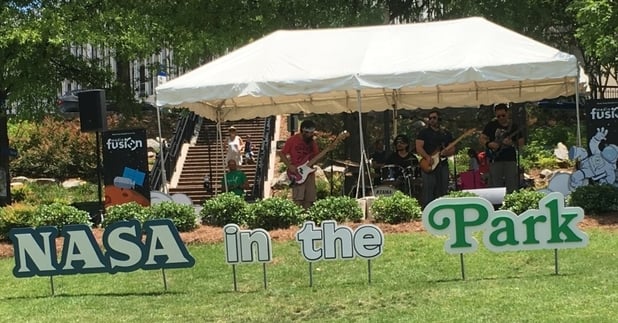 I recently had the pleasure of attending the fourth annual NASA in the Park event to celebrate the long-lasting relationship between the city of Huntsville and NASA's Marshall Space Flight Center.
And it was out of this world.
Held annually on the third Saturday in June, NASA in the Park truly is fun for the entire family. The beautiful Big Spring Park was the perfect setting for such a fan afternoon, and the open, blue skies sure didn't hurt the fun, upbeat mood in the park. Thinking about adding this event to your calendar next year? Not sure if there's anything there that would interest you? Well let's count down five different reasons why you should be sure to attend NASA in the Park next year!
1. Location: We could not have asked for a more beautiful setting than the Big Spring Park, which is just a short walk from our Holmes Avenue branch. Recently renovated, the park feels like a natural extension of the city surrounding it. At one point, rising up from the park, there's even a stairwell that leads you up out of the park and right into downtown's core. Wide, welcoming sidewalks encircle the lake, which also has small branches running throughout the park beside the sidewalks so you're never far from the calming water and gorgeous koi that call the waters home.
2. Dogs, ducks, and koi…oh my! If learning about space exploration isn't your thing (though, after visiting NASA in the Park, it probably will be), feel free to instead sit back and animal watch. Big Spring Park doesn't have a clearly posted policy on dogs in the park, but in all my observation and experience, it seems that there is an unwritten rule that dogs are welcome as long as they're on a leash and their humans clean up after them. And as long as they don't disturb the ducks that call Big Spring Park home!
3. Food trucks: Who doesn't love a good food truck? The street was lined with them on the beautiful day NASA in the Park was held. From ice cream to Chinese food, tacos to burgers and fries, there was something to satisfy everyone.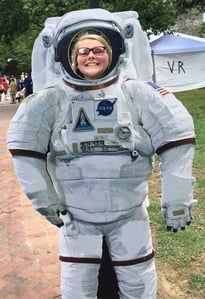 4. Live music: Before I was even in the park, the sound of live music was filling my ears and making me smile. What would an outdoor event be without some live music?! Luckily we didn't have to find out, as there were nonstop jams coming at us courtesy of local bands who kept the mood going strong and the audience swaying along.
5. Science! Let's not forget the best part…this is essentially a huge science fair brought to you by some of the greatest minds in the space industry! I was overjoyed to see how many children appeared to be having the time of their lives as they learned about this great big universe we call home. There were many different interactive exhibits and games that drew crowds of all ages. And let's not forget the countless photo opportunities waiting around every corner. After all, who doesn't want to be an astronaut in their Facebook profile pic? (As demonstrated by my little sister Gracie!)
Have I convinced you to attend NASA in the Park next time? I'm sure hoping I did and that I'll be seeing you at next year's event!