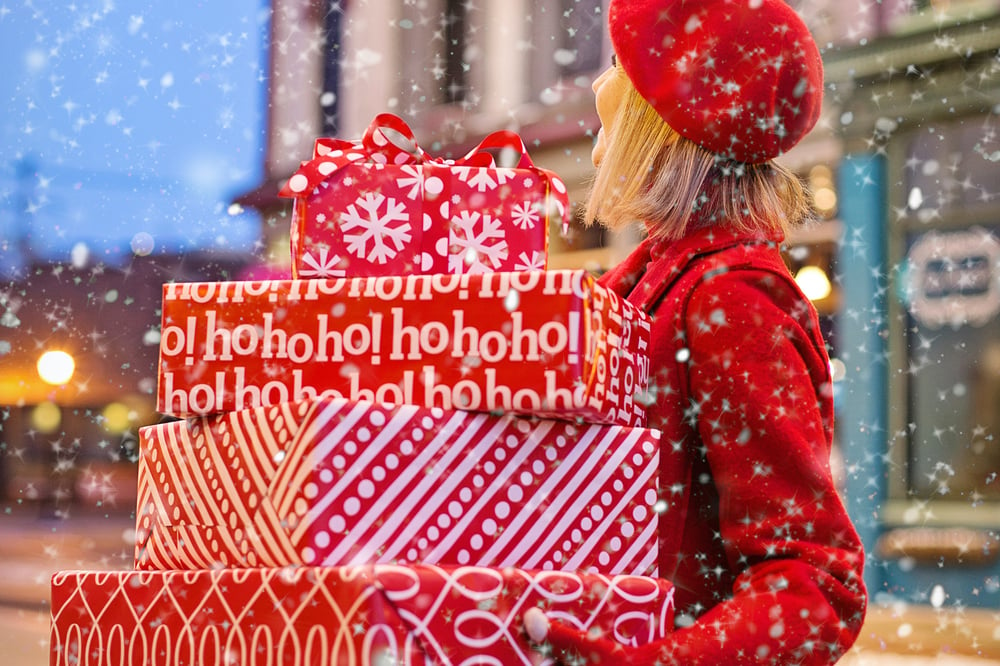 While we can't help you find the perfect gift this holiday season, we can help make the purchasing process more convenient and secure when you do. Whether you prefer to shop in person or online, you can shop with confidence this holiday season when you use your Bank Independent Debit Card. Debit cards are easy to use, accepted most anywhere, and come free with your Bank Independent checking account.
Debit Card Convenience
There are very few occasions anymore that consumers pay for retail purchases with a written check. And considering the quantity and variety of gifts most people purchase during the holidays, carrying that much cash around can be problematic. Debit cards are the easiest solution provide a quick and secure way to access your funds for a variety of transactions.
Debit cards are widely accepted at most merchants where they provide convenient options to pay for purchases. Today's point-of-sale terminals are designed to capture transactions efficiently and accurately and processing quickly through your account. Because your debit card is unique to your account, you can reliably use your Bank Independent debit card to make purchases in-store or online with a simple dip or swipe of your card or even through the convenience of your digital wallet.
Secure Debit Card
Worry less about holiday hackers. Bank Independent Debit Cards are backed by the security and technology provided by Mastercard. Our debit cards feature an embedded microprocessor chip for storing and transmitting data, so your personal financial information is more secure than ever. Because chip cards are extremely difficult to counterfeit and require special equipment to read, they greatly decrease the probability of fraud through counterfeit cards or skimming (attaching devices to card readers to capture card information).
MasterCard SecureCode is a private code for your Bank Independent Debit Card that adds a complimentary layer of security to online shopping, carefully evaluating a variety of data behind the scenes with each online transaction. No pre-enrollment is required; in fact, certain transactions and online merchants automatically extend SecureCode services to you. SecureCode may prompt you to provide additional secure information to confirm that it's really you. The information you enter will only be used to verify that particular purchase.
Manageable Debit Card
Make sure you're tracking all of your holiday spending. Bank Independent offers Sync online and mobile banking to help you keep up with all of your purchases. Sync comes loaded with our Card Management feature to help you keep closer tabs on your debit card transactions, set notifications and alerts. You can set your app to send notifications when you use your debit card. Choose to be notified if the card is used at different types of merchants, if it's an online purchase, and even set spending limits to discover if you exceed your holiday spending budget.
Misplace or lose your debit card while you are out shopping for holiday bargains? Simply open your Sync app to lock or disable your lost or stolen debit card. When you request and receive a new debit card, use your Sync app to activate the card and set up new notifications all from the convenience of your mobile device.
Make a positive difference
While you are out doing your holiday shopping, consider how you can make a positive difference in the lives of others. Each holiday season, Bank Independent conducts Toy Share, a drive to collect new, unwrapped toys to distribute to local children. Our the last decade, our friends and neighbors have donated thousands of toys for our area partner organizations. Purchases made with your Bank Independent Debit Card help qualify you to enter for the chance to win one of yearly Seven Weeks of Winning prizes.
Haven't heard about the Bank Independent Seven Weeks of Winning Debit Card Sweepstakes? Seven Weeks of Winning rewards customers who use their Bank Independent debit card between a seven-week period starting in November the chance to win one of six weekly $1,000 drawings or the $5,000 grand prize drawing. Debit card users earn one entry per purchase each week that they make seven or more purchases. That means each time a customer chooses their Bank Independent debit card they get another chance to win! And every week a customer qualifies for a $1,000 drawing they also get one entry for the $5,000 grand prize drawing.
What kind of a positive difference would an extra $1,000 or even $5,000 make to your holiday shopping plans? It all starts with the confidence of your Bank Independent Debit Card.