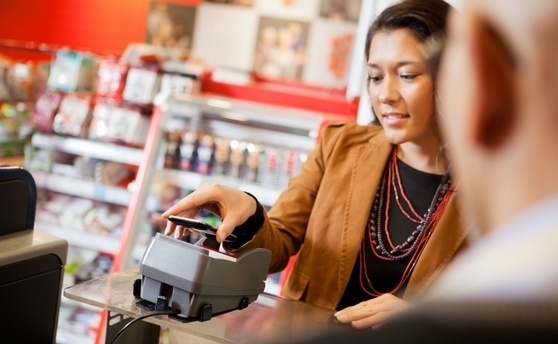 Over the past few weeks I've conducted an informal survey to find out how people are using--or why they aren't using--digital wallets.
I came across a few digital loyalists who swear by the convenience of this relatively new technology and use it everywhere from fast food places to local drugstores to major online retailers.
Then I also heard:
"I just don't think about it."
"It's not safe."
"Nobody takes those around here."
And my favorite: "What's a digital wallet?"
These are the very same responses I received when we rolled out Apple Pay a few years ago. I even wrote a blog post about it. Interestingly, these reservations are not restricted to a certain age group or education level or even one's comfort with technology. A lot of it comes down to a lack of information.
Well, I'm here to fix that. Welcome to Digital Wallets 101!
Before we explore the myths surrounding the safety and acceptance of digital wallets, it's worthwhile to understand just what we mean when we use this term.
What's a digital wallet?
While we all know better than to cite Wikipedia in an academic research paper, I think that in this case, the site offers a pretty good description of digital wallets:
"A digital wallet refers to an electronic device that allows an individual to make electronic transactions. This can include purchasing items online with a computer or using a smartphone to purchase something at a store. An individual's bank account can also be linked to the digital wallet."
So basically, having a digital wallet lets you use your phone to pay for something with your debit or credit card. No need to dig out the physical card at checkout time - just hold your phone up to the terminal and voila! You've checked out!
This same "magic" works online. Once you've added your debit or credit card information to a digital wallet, it's securely stored. When checking out online, you can choose to pay with a digital wallet, which means you don't have to get up, pull your card out of your real-life wallet, go back to the computer and type in all the information. It's pretty convenient, I must say.
Even if the term "digital wallet" is unfamiliar to you, you've probably heard of the major providers of this technology: Apple Pay, Android Pay, Samsung Pay and Masterpass.
Getting started
Ready to try a digital wallet? Great! But first, some technical considerations:
Some digital wallets are only available with certain devices. Apple Pay is only available on iPhones, Apple Watches and certain iPads. Android Pay and Samsung Pay will work on phones using the Android operating system, including newer Galaxy, Sony Xperia and Nexus devices. The Masterpass app is currently available only on Android devices, but you can use Masterpass on any device within a browser like Google Chrome or Safari.
Your phone must be compatible and its operating system up-to-date. For example, Apple Pay can be used only on iPhone 6 and newer models. With Android Pay, you need to have Android's KitKat 4.4 or newer operating system. Each service has different device and system requirements, so it's worth a quick Google search to investigate.
Your bank's debit and/or credit cards must be compatible with specific digital wallets. Financial institutions must be authorized to support the use of its cards on Apple Pay, Android Pay, Samsung Pay and Masterpass. Bank Independent's debit and credit cards are compatible with all four, which means you can load any or all of your BI cards to your preferred payment system. To find out if other debit or credit cards are compatible, contact your financial institution or card provider.
This all may sound complicated, but I promise it's not. Specifics for each digital wallet are readily available on the respective sites; again--just a quick Google search away.
Here's a little something we created to help make sense of the options:
Concerns?
Now to the objections, or considerations, of using digital wallets.
"It's not safe."
Actually, yes, it is--very safe. Safer than using your plastic, in fact. When you add a card to a digital wallet, your card information is encrypted and is not accessible through your device. You'll see an image of your card on your phone screen, but only the last four digits of your card number are visible. Because transactions are authenticated by your fingerprint, no one can use your digital wallet if your phone is stolen. And you're still protected by all of your bank's fraud monitoring coverage.
"Nobody takes those around here."
You'd be surprised at the number of stores and vendors who accept payment by digital wallet. In some cases, the businesses or the cashiers don't even realize that their checkout terminals are indeed equipped to accept this type of payment. Like in the Samsung Pay Katz's Deli commercials when the Deli guys insist, "We don't have that here" even while the customer is paying with Samsung Pay.
It's a good idea to look for the logos of the various payment options, or to ask the cashier if they accept your preferred digital payment method. However, it's never a bad idea to go ahead and try it.
Still a little wary?
That's OK! Using your phone to pay for stuff is a big behavior shift--like switching from checks to debit cards or from cash to checks. We're all getting adjusted to it. Although there's plenty of information out there on the web, there are also real, live folks you can talk to about digital wallets.
Bank Independent has a team of Customer Service Representatives who are specially trained to answer your digital wallet questions, and our Sales Offices can even assist with hands-on help. Don't hesitate to call or visit if you'd like to learn more!