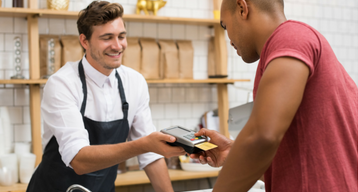 Just because running a small business is a labor of love doesn't mean getting paid isn't still a major priority. Since today's customers don't always carry cash and taking checks can be risky, the ability to accept credit and debit cards is crucial for a successful, growing business.
Becoming plastic-friendly can be costly and confusing if you try to go it alone, though. Teaming up with a financial institution like Bank Independent can provide you with a full range of affordable, user-friendly merchant services designed to help your business thrive.
Standard terminals: A tried and true tradition
The first thing that often comes to mind when considering credit card processing is standard terminals, which are the familiar card readers found at most retail stores and other brick-and-mortar businesses. These terminals typically are located alongside the cash registers to ensure a smooth, predictable checkout experience.
If your business has a shop or office that handles a heavy volume, standard terminals may be your best option. Make sure yours can handle EMV chip technology and contactless payments, as well as accept the major debit and credit cards including MasterCard, Visa, American Express and Discover.
Offsite payment solutions
Standard terminals do a great job of handling on-site transactions, but what if some or all of your business takes place off site? Small businesses such as contractors, plumbers, landscapers, day care providers and entertainers often face this issue. There are options for accepting plastic wherever your business takes you including:
● Wireless and Bluetooth terminals: These portable terminals transmit payment data wirelessly and don't require access to an electrical outlet.
● Mobile card readers: These are small, lightweight devices that attach to your smartphone or other mobile device and transform it into a card reader.
Businesses doing high-volume credit card sales may want to opt for wireless or Bluetooth terminals, while mobile card readers should be sufficient for those that carry a lighter transaction load. In either case, your off-site reader should be able to handle the new EMV chip cards as well as magnetic strips.
Tie it all together with specialized payment software
Merchant services aren't necessarily limited to helping your business handle plastic. You can take things up a notch by opting for a plan that also includes integrative payment software that's custom tailored to boost your company's efficiency, organization and reach. These packages may include a shopping cart feature to enable online transactions as well as bar code reading capability, inventory management and point-of-sale systems.
Other important advantages
Be aware that merchant services costs and features can vary significantly depending on the financial institution involved. When making your final decision, look for a package that offers:
● Low costs that beat the competition.
● No required minimum terms.
● Flat-rate pricing, for predictable budgeting and cash flow.
● Telephone customer service that's available 24/7 and free on-site follow-ups and consultations.
● Self-service online reporting.
● Promotions that waive monthly fees for the first year.
Being able to accept plastic lets you get paid faster so your business can grow and prosper. And once you've got the right merchant services in your corner, you can return your focus to the day-to-day operations of the business you love.
Roberta Pescow, NerdWallet
© Copyright 2016 NerdWallet, Inc. All Rights Reserved