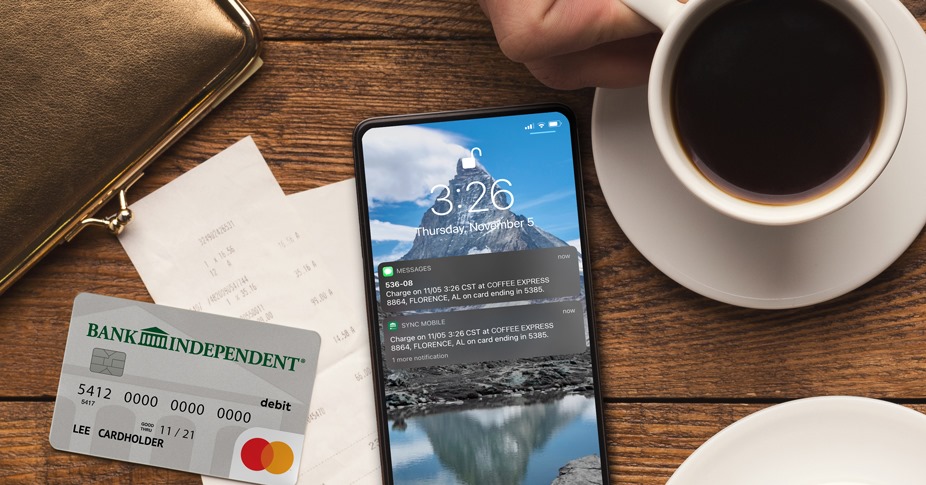 While many consumers may have had one banking relationship in the past, surveys show that the average American now has 5.3 accounts open across all types of financial institutions. So, you might have a checking, savings, and possibly a credit card with your primary bank. You may also have opened an account associated with work, school or due to a prior move.
When you open your wallet, how many cards do you see? Lots of cards means lots of options when you check out. It also may mean lots of rewards and rules to keep up with. While it can be tempting to chase rewards points and rotating categories, you may be better served to simplify and consolidate your spending to ensure you are getting the most from your preferred payment source. Here are 8 ways you can maximize your benefits by using your Bank Independent Debit Card.
1. Make every transaction count
Look for opportunities to maximize the impact of your debit card transactions. Smart Swipe is a simple savings program that rounds up your debit card transactions to the nearest dollar and deposits the difference into another Bank Independent account. What starts out as small change can really add up.
Bank Independent also supports many organizations with charitable donations and Helping Hands drives throughout the year. We pledge additional funds based on our customers' debit card use, to include: frequency, types of transactions and of course, smart savings habits. Watch for opportunities to lend a helping hand simply by using your Bank Independent Debit Card.
2. Move your most used debit card to the front of the line
Organize your wallet with your Bank Independent Debit Card at the top. It is a great reminder that the top card is tied to the most services, therefore the most frequently monitored by you. Bank loyalty aside, your transaction behaviors on your Bank Independent Debit Card can help you track your overall spending habits better than if they are spread across multiple cards. See what impact your everyday purchase habits have on your bottom line.
3. Activate your debit card
Your Bank Independent Debit Card is a secure and convenient way to access your funds and process transactions in place of checks or cash. Unlike opening a credit card account, debit cards are tied to your account balance and will not impact your credit score. Most businesses are equipped to accept debit cards, offering layers of protection for your transactions.
4. Download the mobile app
More and more, banks are meeting customers in the ways they prefer to bank. This includes online and mobile apps which allow you to check your balance, see pending deposits and determine when they are available, transfer funds, pay bills, deposit checks and even start a chat directly with customer service. Bank Independent's Sync Online and Mobile Banking offers secure banking anytime and anywhere directly from your mobile device.
5. Turn on Notifications
A robust banking app can provide more than a simple account balance. Our Sync Mobile app offers features that provide more complete financial management. Create alert notifications that help you manage your debit card. Set spending limits or block certain types of transactions with merchants or online vendors. Set transaction alerts to notify you every time your debit card is used. Even temporarily lock your debit card if it has been lost or stolen. Notifications are a great way to gain control of your finances.
6. Make Direct Deposit work for you
Do you elect to have your paycheck direct deposited into one account? While some people still receive or even request a printed check for their work, many businesses and employees have moved towards direct deposit via ACH (Automated Clearing House) transactions. There are many benefits to electing direct deposit. Many companies can initiate direct deposits faster and more reliably than printed checks, which saves you time. Have access to your funds faster, directly with your Bank Independent Debit Card.
7. Opt-in for overdraft protection
Many banks allow you to opt in (or opt out) of overdraft coverage for ATM and everyday debit card transactions. An overdraft occurs when you do not have enough money in your account to cover a transaction. When you opt in, you authorize Bank Independent to pay the amount to cover the debit card transaction with the understanding that you will pay the amount owed, plus an insufficient fund fee to the bank for covering your financial obligation. In the event you do not have overdraft coverage, your transaction will not be approved, or your account can be overdrawn and face financial penalties Learn more about overdraft management.
8. Connect your digital wallet
Not all debit card purchases are made at a point-of-sale machine. Some of your favorite shopping apps now allow you to scan and go as you shop about a store. Before you leave, your purchase is finalized in app and charged to you. Why not add your Bank Independent Debit Card as your card on file? Or perhaps you do your shopping online. You can use your Bank Independent Debit Card as the card on file to secure your online purchases. Are you a fan of peer-to-peer and in-app payments? Your Bank Independent Debit Card can safely and securely become your go-to card.
Bank Independent Debit Cards are backed by the power of Mastercard
In person or online; in an app or your digital wallet; in Athens, Alabama or Athens, Greece - Your Bank Independent Debit Card is secure and convenient. Our partnership with MasterCard means more complimentary protections for your purchases:
Extended Warranty Coverage: MasterCard doubles the original manufacturer's or store brand warranty for up to one year on items you purchase with your BI Debit Card.

Zero Liability Protection:

Rest assured. As a Bank Independent Debit Cardholder, you won't be held responsible for

unauthorized transactions.
For more information visit our site.